Cooky Recipe Number 18: Cinnamon Slices
Sunday, November 18, 2012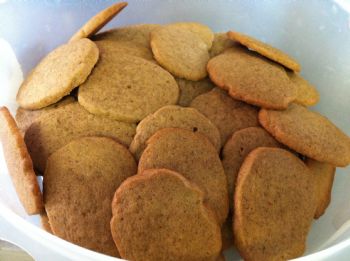 These are a variation of the Vanilla Refrigerator Cookies recipe. They turned out light and cinnamony...a big hit.
Alas during my 5 mile run last Sunday, IT band syndrome hit...at least that's what I've diagnosed myself with and my husband concurs. Outer knee pain. I've been doing stretching, foam rolling, hip/butt strengthening all week. I also got a sports massage on Tuesday and he worked the butt and hip muscles and IT band. It's still sore on and off but from what I've read, taking more than about a week off doesn't do anything to help so I will start back up running on Tuesday. I do have a chiropractor appointment on Monday and maybe she can do something to help as well as another sports massage on Wednesday.
I WILL do the Las Vegas RnR HM on 12/2...I refuse to get another super expensive technical shirt.