My worst obstacle...
Sunday, November 18, 2012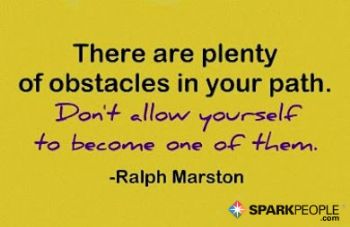 How true is this??
For me, my worst obstacle is me. I can talk myself into, and out of, healthy food choices, exercising and just that I'm worth it. It's is amazing how hard it is to undo negative self-talk. After years of doubting myself and thinking "I can't", it is a constant effort to believe I can.
It takes Sparking and tracking to see the facts. I have lost weight. I have increased my walking speed. I am moving more. I am eating better. I am drinking my water. I am worth it. I can do it.
Over the past few weeks I found myself letting the negative voices take precedence over the facts. I let that doubting voice tell me that I should be doing better. That I'll never get there. That I don't have time. That I'm okay the way I am.
Today I feel empowered by the knowledge that I can change this inner voice. It very well may be the hardest thing I ever do. But I know that the work is worth it. That I am worth it. That my boys are worth it.
Life can be tough enough without getting into my own way. The one thing I do have control over is me. I need to not forget this simple but powerful fact.