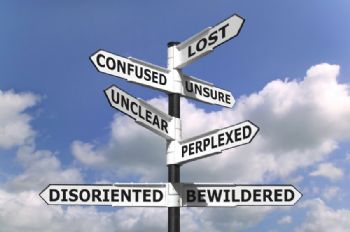 Whenever I study something I'm passionate about, I give it my all.
Yet there I was…unsure of which way to go. I had a lot of knowledge. I had put in my due diligence. I knew my subject…or at least I thought I did.
But when it came right down to it, I wasn't sure what to do next. So many things were swirling around in my brain.
You see, there are a lot of different variables when it comes to learning about a new subject.
Take weight loss, for example.
It isn't just a matter of getting rid of the poundage. You've got to look at all the many variables that come into play when you weigh more than you would like. What kind of food are you eating? How much? Are you having any reactions to certain foods? Which ones? Have you always struggled with weight? What's your emotional status? Do you exercise? What kind? How often?
I won't bore you here, but you can see the list can, and does, go on and on and on.
So it isn't any wonder when you are attempting a life change, such as weight loss, that all the different pieces of the solution can get to be overwhelming. And you may find yourself in exactly the same spot that I find myself anytime I'm attempting something new.
Overwhelmed.
Confused.
Unsure of what to do next.
And if I were to let these thoughts and emotions have their way with me (which I do NOT!), I could sink into despair, and possibly even give up.
I'm telling you, I've been there.
I know what it feels like.
But that's why I've developed a consultation service…for those moments when you are slipping over the edge of knowledge into overwhelm …and possible inaction.
You can do this. You can take on this life-change you've been working on, and you can make it happen! But when the overwhelm hits and the doubt sets in, you need someone…someone like me…to be there.
I can help.
I know all the variables that weight loss, or nutrition, or fitness is going to throw at you.
This is what I do …every day…all day long.
I can help you get past the overwhelm and get on with changing your life for the better.