Last Friday we had our Curves Christmas Lunch – it is the only one of the many celebration lunches that I attend as they cost heaps and the food is rarely healthy!! –
It was held at the Senior College – where they have a dining room and catering kitchen to train students for the hospitality industry. The meals are very good but cheap as there can be problems (as there were!!)
Unfortunately they had chosen a bad day for it – as the usual Catering Students were graduating that day – so were in the main college hall for their celebration and they were only the staff and a group of young (teenage) Chinese students who were over for the holiday to learn. The Chinese students had only had 1 lesson previous and couldn't speak English – so the staff were using hand signals – and complications abounded.
Though I must say – the Chinese students all had impeccable manners (even the male students took you to the restroom when asked where it was, and opened the door you bowing you through) – but it meant that the meal – though hot and beautifully served and wonderful tasting – was served with huge gaps between courses!! To give an idea – we arrived at 11.45am and left at 2.10pm!!
This was our table – there were 4 similar tables of Curves members. My friend – Barb – is on the bottom right next to my vacant seat and wearing a salmon coloured top. You can see one of our little Chinese waitresses at the top left, and the fair lady on the top right in an orange red top is one of our trainers.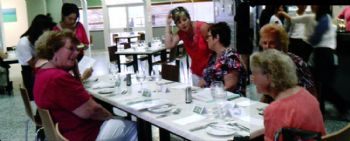 At present I don't have a picture of me in my final choice of outfit – I will get one sorted soon.
Menu
Starters:
Mezze style platters with an Xmas Twist on tables: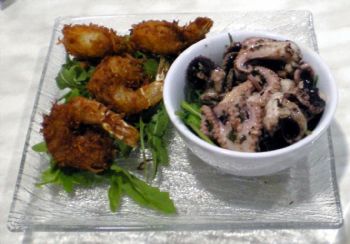 Coconut prawns:, Char Grilled Baby Octopus:,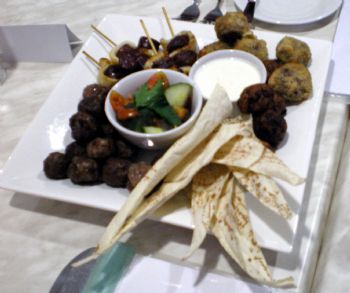 Baby Lamb Koftas:, Chorizo and Calimari Turkey, Brie and Cranberry Bites
Smoked Salmon and Caviar Blini
Main:
Choice of: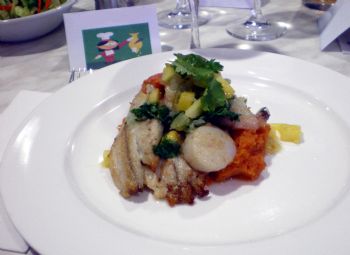 Barramundi, Prawns and Sea Scallops on a Kumera Mash with a Mango, lime and coriander salsa
OR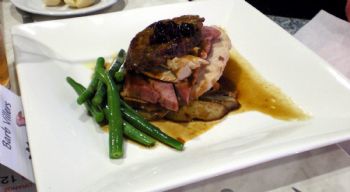 Duo of Turkey and Ham with a Sage and Walnut Stuffing, Roasted Root Veges, and Port Jus.
Garden Salads on the Table
Dessert: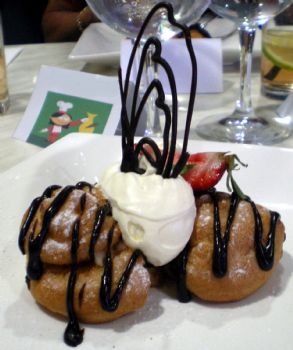 Profiteroles Filled with Kahlua, Baileys and Cointreau Cream smothered with Rich Chocolate Ganache
And No! I didn't eat it – honestly it was too over the top and I have no wish these days for creamy chocolaty things. Several people said – "it was gorgeous but they will have indigestion for the next few days" - what is the point?? I'd rather not be sick!!
And to make things easier with the language problem – the College staff had prepared labels for us according to our choice of main meal – I had fish!!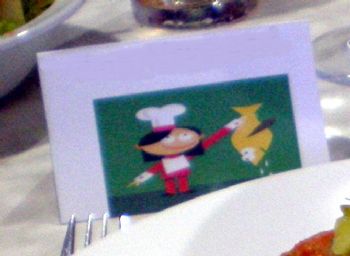 It was a chance to dress up and socialise with people we normally only see fleetingly as they come and go on the circuit – all sweaty from a workout!!