Beauty!
Saturday, November 17, 2012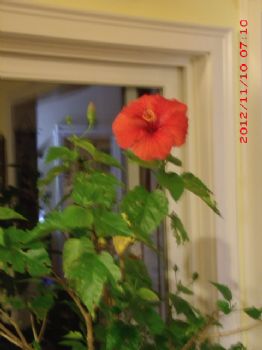 Several years ago, my husband John bought a hyacith tree from Home Depot at the end of the growing season. It bloomed a few times that year and for the next few years. This summer, it did not bloom. John thought about discarding the tree over our back yard banking. I wanted to bring it back inside for another year.
We ignored the potted tree for a few months, except to water it. One morning, out pops a lovely bloom. Just when we least expected it! Today's lesson: look for beauty everywhere.
The Bible says; (God gives us) beauty for ashes, the oil of joy for mourning, the garment of praise for the spirit of heaviness; that they might be called trees of righteousness, the planting of the LORD, that he might be glorified.
Isaiah 61:2-4