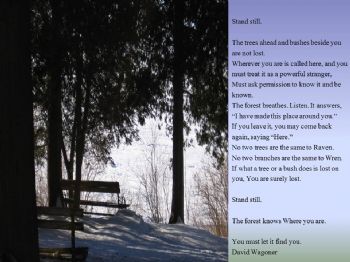 I heard Tara Brach read this poem the other day during her weekly podcast. It reminded me so much of the picture adjacent to it. Joans Uncle Bill would sit on that bench after work and stare out at Lake Michigan and relax. We visited one summer and he and I sat there, saying nothing to each other for a long, long time. As I looked at the lake, it almost reached out and rocked me into a very gentle and warm peacefulness. Joan walked down the hill and told us it was time for dinner. I told her I found Nirvana and that I was going to stay there forever.
A few years later, after Uncle Bill had passed, Joan went back to visit her aunt during the late winter. She snapped this photo for me.
Through the wonders of Powerpoint I was able to marry the poignant poem and the picture and because you are so dear to me I thought I'd share it with you.
Namaste
If the words of the poem arent clear to you they are as follow:
Stand still.
The trees ahead and bushes beside you are not lost.
Wherever you are is called here, and you must treat it as a powerful stranger,
Must ask permission to know it and be known.
The forest breathes. Listen. It answers,
"I have made this place around you."
If you leave it, you may come back again, saying "Here."
No two trees are the same to Raven.
No two branches are the same to Wren.
If what a tree or a bush does is lost on you,
You are surely lost. Stand still. The forest knows
Where you are.
You must let it find you.
David Wagoner