Weighing In, Measuring Up
Thursday, November 15, 2012
Even though I'm pretty early into my (re-started) weight loss efforts, I don't think I'm going to have a problem sticking with my Monday & Thursday weigh-ins and mid-month measurements.
November Mid-Month Measurements:
Neck: 14"
Left Upper Arm: 13"
Bust: 43"
Waist: 39"
Hips: 50"
Left Thigh: 30"
Left Calf: 17"
Taking photos along the way keeps me extra accountable. For my weekly weigh-ins, I snap a picture of the numbers on the scale and store the photos in a "Weight Loss" folder on my computer. I'll also be taking and uploading progress photos of my front and side every second Monday (next set: Nov 26). My husband was the photographer for my first set (see SparkPage) and insisted that I wasn't allowed to smile because it was my "starting weight", which I'm not happy about - but I'll be all smiles for the next ones!
Scale Shot - Monday, November 12: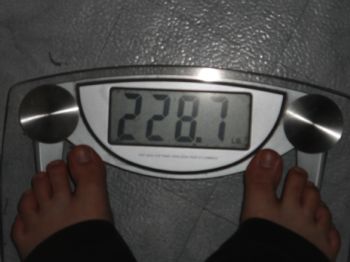 Scale Shot - Thursday, November 15 (Today):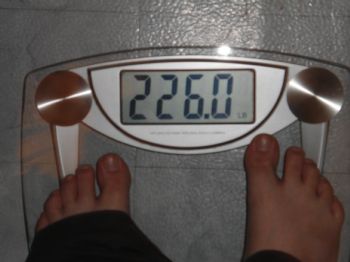 My naked toenails bug me - I think I'll paint them pretty before my next weigh-in!
I was genuinely surprised when I hopped on the scale this morning and it gave me a reading of 226, which is a 2.7 lbs loss since Monday. It was especially shocking because the only changes I've made so far are dietary - avoiding sweet treats/refined sugar, drinking lots of water and tea (mostly green), watching my portion sizes, and eating consciously. I haven't even started exercising yet, so an almost three-pound drop within the first few days is impressive.
I'm off to a great start toward healthy living - one more pound to go and I'll be able to put a date in the '225 lbs' section of my SparkPage!