Thursday, November 15, 2012
Our house is still a hospital in disguise, the other half is now hibernating in bed , but has penicillan , as i phone his Dr. up and told her of the wheezy sound that he was trying to ignore, and was worryiing me. ( she thinks he has some virusey flu thing also complicated with a chest infection...............he should have had his flu jab

)
The positive thing that happened was that middle son and i got to do the shopping ysterday and we got loads of soup making veggies and fresh foods.. hardly anything that was processed, and even though i took nearly three hours to drag myself round the supermarket...( Joe did offer to push me in one of their chairs, but i need to use my legs, and am to proud to) It has left me exhausted today though

.
Daughter and i have decided to do a photo a day for a month .. the first one being a portrait of ones self , here is my result....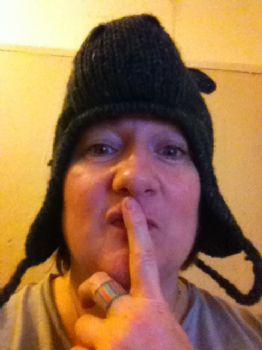 Hardly the most flattering with my silly hat ( perfect for keeping the ear warm) and tired face. Todays challange is to post a picture of the clothes we wore... i have an idea how i am going to take it, but need to get to the end of the day first.
Have fun all and try not to get this virus/flu thing.