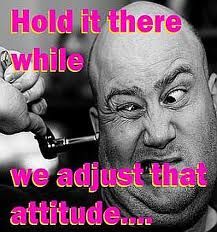 Yesterday when I got to work, I talked to a good friend of mine regarding my frustrations about not being able to make it to the gym & she cheered me up. She has an amazing sense of humor & she had me laughing in no time. I love having friends like that.
Thanks to all of you, too, for your advice. I appreciate your encouragement so much.
I get up super early in the morning (3:45 a.m.) & when I go to the gym, I usually get home around 6:00 p.m. Enough time to eat dinner, spend time with hubby, pack lunches & iron clothes for the next day & go to bed. The last couple of days, we haven't had enough people in our carpool to ride in the carpool lanes, so it's been taking us 2 hours to get home from work. Consequently, I've been getting home at 6:00 p.m.
I want to spend time with hubby in the evening, so the only time I had yesterday to get a workout in was at lunch. I don't exercise much during lunch (except to walk in place) because I don't have access to a shower. But yesterday, I JOGGED in place for 30 minutes while reading my Kindle.
Anyone who knows me knows that I don't jog or run unless I'm being chased & don't want to be caught.

I can Zumba or do aerobics for an hour & it doesn't phase me, other than to sweat a lot, but for whatever reason, I just don't jog or run.
After my jog, I felt GREAT!! I might have to do that more often. I just have to make sure I have plenty of Body Spray in my desk drawer since I can't take a shower.

Lessons learned: If I suspect I can't make it to the gym, I can fit in some exercise during my lunch break. (By the way, I had 12000 steps by the time I went to bed last night. Yay!!).
Blessings to you!!