Candy Christmas Sleighs
Wednesday, November 14, 2012
It has to be said.. I have a serious weakness for sweet treats. I'm a bottomless pit when it comes to all things sugary and delicious. If I'm left unattended with unlimited access to a dessert tray or candy dish, I can almost guarantee that I will continue eating until it's all gone - even if it might take me a few sittings to polish off.
Sugar is my worst addiction when it comes to getting healthy - a single taste of it can (and will) kickstart three days' worth of insatiable cravings for more. I become obsessed and nearly possessed wanting more. Picture a zombie, but one who wants sugar instead of brains - that's me. Some people are able to ration themselves and have just a tiny bit every day, but I've tried, and that strategy just doesn't work for me. When it comes to sugar, it's gotta be all or nothing in order for me to keep my focus.
Since I've decided to get back on board for a healthy lifestyle, I've been trying to sever my relationship with sugar by simply not having any... at least, none of the blaringly obvious sources. No sugar in my coffee, no candy, no chocolate, no baked goods, or any other junk foods. Today is Day 3 of my sugar detox and I'm feeling pretty awesome.
I put my willpower to the test last night when my friend Miranda and I got together to do some Christmas crafts. Although I cannot usually trust myself with access to delicious treats, I opted to make the adorable "Candy Christmas Sleighs" I'd found on Pinterest: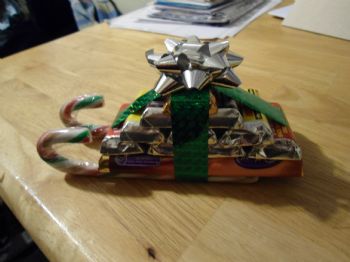 I made ten of them and I'm very proud to say that despite working hands-on with scrumptious treats and enduring the delicious smells of peppermint candy canes and chocolate for an hour and a half, I didn't eat a single piece of anything.
I may not have worked out last night, but I exercised some serious self-control! That counts as fitness minutes, right? :)