Total Solar Eclipse
Tuesday, November 13, 2012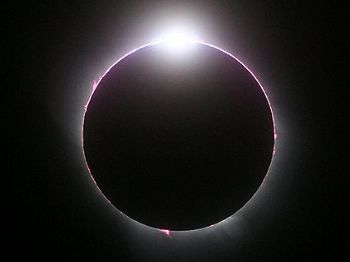 Here comes the sun!!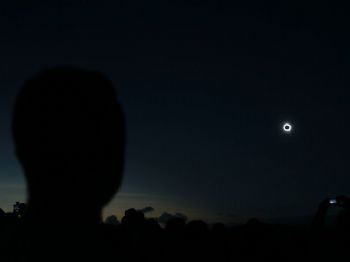 And this is what it looked like from the beach at Cairns
That was weird – but sent shivers down my spine.
We have just had a total solar eclipse – it actually was just North of us (about 700miles) – but we got about 91% eclipse – and believe me – we knew.
I was watching on TV – and further North it went dark – a shadow 150km (93 miles) wide was cast over Northern Australia– from bright sunshine to dark – its summer here and the sun was already bright at 6.38am – and it went dark as night – and then the corona could be seen – a ring round the covered sun – magical!!
There had been cloud cover but it cleared just for the total eclipse – then covered the sun again – Isn't nature amazing??
-
Here slightly further south – we got a sort of "new moon " effect from the sun but more interesting – the bright sunlight became filtered – and the birds went to their nests!! And there was total silence from the wild life. Then the sun came out again and worked up to its usual power - full and bright!!
It lasted maybe 1 ½ hrs in total – but the actual total eclipse was only maybe a minute –and we only had the softer filtered sunlight (and it wasn't cloud here) about 3 min or so maybe up to 5 min.
Later I went into Curves and everyone was talking about the eerie feeling when the eclipse was at its height, the shadowy yellow light and the silence from wild life – it was striking.
Fantastic – Nature never ceases to amaze!! I doubt I will see one again in my lifetime - but I am glad I had the chance to see the effects of this one.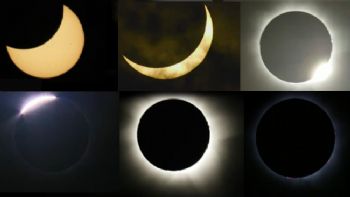 The stages of the eclipse
Photos from the local daily newspaper – Courier Mail