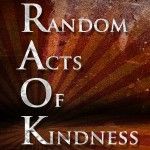 What is RAOK? It's Random Acts of Kindness.
So here are the three suggestions:
* Donate your old books

*Write to a stranger in the hospital

* Make holiday decorations that you can donate to schools or facilities in the community that can use them

__

If you want....make some more suggestions in the comment section or give an account of what happened when you did one of these suggestions.
__
Ok, maybe you've heard of RAOK but what is RAOH? Well, it's something I just made up for this blog.

It stands for Random Act of Health.
Basically, it's a way of incorporating a healthy act into one's life at a given moment just for the sake of trying to be more healthy. Even though RAOK's are for your health, too, this is just a bit different.
What I'll do here is give a healthy action suggestion in each RAOK post to do immediately and if you do it just post a thumbs up in the comments section.

These will be for fitness, food, water, attitude, intelligence, etc.
So here goes:
This one is for intelligence: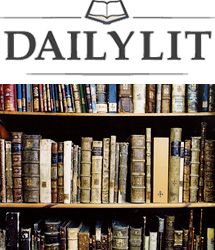 Read the classics free via email, on a website, or via Kindle
Most of our common sayings and references come from classical literature. Even if it isn't your taste it helps to read classical literature to understand our culture and why we have the preconceptions that we have. Understanding where these preconceptions come from and in what context they were created help a person decide if they want to continue in that assumption or not.
dailylit.com/
www.gutenberg.org
/
www.amazon.com/s/
ref=nb_sb_ss_i_1_8?url=sea
rch-alias%3Ddigital-text&f
ield-keywords=classics+on+
kindle+free&sprefix=classi
cs%2Cdigital-text%2C487&rh
=n%3A133140011%2Ck%3Aclassics+on+kindle+free
So-
Did ya do it?
How do you feel?
___
Previous posts can be found here:
thouohlord.blogspot.com/