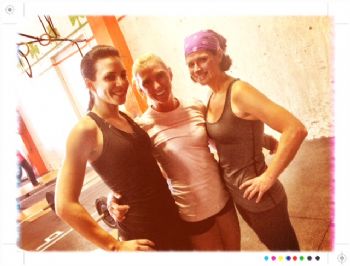 Over the weekend I competed in the Garage Games New England Finals, at Crossfit Southie. I competed in the scaled division and tied for 9th place out of about 60 women. The workouts went as followed…
WOD 1 – "Queesy Baby" 8 minute AMRAP: 6 Burpee box jumps and 7 pull ups
Complete a chest to floor burpee into a 20′ box up and over (in scaled we didn't have to jump on the box, we just had to get over it, touching both feet on the box) and the pullups were scaled with a blue band. I got 110 total reps, placing me 16th. Also, my shoe came untied so I ditched the shoe, but when you ditch one shoe, you have to ditch the other. Then, my freaking sock came off!!! Hahaha! Look at the photo.. you see one neon shoe and then a white sock in the next photo?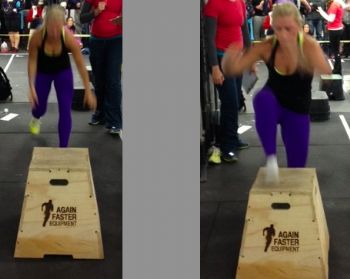 The second WOD was "Hulk Salad." This was probably my favorite. In 8 minutes you had to determine your max weight to complete the following: 2 power cleans, 2 front squats, 2 shoulder to overheads. If you took your hands off the bar you had to start all over. Going into this one I knew that 105# was a definite. So I did my first set at 75# just to get my body ready. My second set was an easy 95#. My third was 105# without a problem. I had plenty of time so I went for 115#. First two power cleans – no problem! Front squats were cake! First split jerk – awesome! Second split jerk – didn't happen. I tried two more times and couldn't get it!!! I went through the whole progression again and didn't get either split jerks. Grrrrrrrrrrr!! And of course there was no way to get to 110# because we only had a few weights to choose from to put on the bar. Looks like I'm going to need to start practicing more jerks! I tied for 4th on this.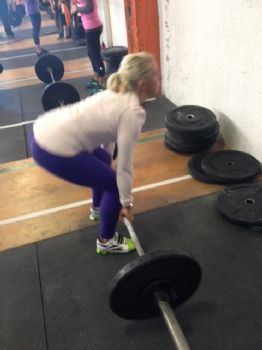 The third WOD was "Loop Swoop Pull." We got two scores on this – one score for the mile run, which I did in 7:50 (which is 1 second faster than my mile time 2 months ago!) and in the remaining time we had to complete as many squat snatches possible with 45#. The total workout took 11 minutes so I completed 22 snatches, which was 14th place for the snatches and 27th for the run.
The 4th WOD Sunday morning, was "Aweful Waffle." In 13 minutes we had to complete the following: row 40 calories, 70 singles with the jump rope, 30 kettlebell swings with .5 pood, 25 hand release push ups, 20 deadlifts with 95#, 15 hang power cleans with 65# and 10 shoulder to overheads with 65#. My time on this was 7:12, which was the 3rd best time for this workout.
The 5th WOD was called "Short, Fast and Deadly." I'm pretty sure I didn't even breathe during this one! We had to complete 5 rounds of the following: 10 thrusters with 35# and 20 abmat sit ups. My time was 4:59 which was 18th for this workout.
It was one of the funnest weekends of my life! I spent two days doing my two favorite things: working out and hanging out with friends. I feel like I was surrounded by friends and support and I truly felt good about myself. It was soooooo different than how I ever felt during bikini competitions. I felt so secure and confident in myself rather than constantly comparing myself to everyone else and being so concerned about how much my lower belly was sticking out.
This is definitely where I belong. But now I need to train hard so I can stand a chance in the RX division. I definitely need to work on my skills like toes to bar, kipping pullups and kipping hand stand push ups. I'm going to keep doing as many Crossfit competitions as I possibly can. If there's one within 90 minutes of my house, I'm signing up!
Kyra,
The Get in Shape Girl