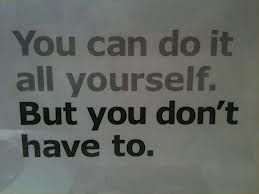 That will be my mantra for the holiday season!
The people I admire most --and that I am most jealous of- are those I see doing a task with others around them. there might be conflicts and struggles but all in all the task will get done.
And all will feel proud afterward.
This i s not at all easy to accomplish! That is why I admire those who can set this up. I have a few friends who are great at it.
examples:
-families cooking together.
-2 or 3 happily cleaning up after a dinner or party.
-putting up holiday decorations.
-keeping the house clean.
The holidays seem to be full of tasks needing doing. The worst is when one person gets stuck with it all. Asking for help can feel demeaning, especially if the request gets a mean or groans in retaliation.
It is a skill to ask for help and get it! If negatives come back as the answer it does not mean everyone hates the asker! That is what it feels like!
I only learned about this by watching others. Some people (like me) always seemed to be toiling alone and ended up feeling totally overwhelmed and angry and unappreciated. Even if I finished my project no one else had any ownership. They'd look at what I'd done and say it was great, but soon they would go do their own thing.
Woman, I think, especially can fall into this trap. I have seen so many woman give andd give for years and end up depressed and alone as time goes on.
Again--asking for help and getting it--is a skill that can be taught ==and learned.
I say my Mom had a martyr mentality. Now I know she just did not know how to ask for help--and get it. I was a lazy bum growing up. I cleaned the house every Saturday but through the week I did not think anything was my responsibility.
Got any ideas about this?
Thanks, Chris