Yesterday, I participated in a clinic given by our former trainer. He recently moved his operation to California to help his father with his business. Steve and Amanda (trainer and wife) also welcomed a son last December 1st, my birthday! We miss him so much for his wise and gentle ways of training and helping us with our horses. His methods focus on Natural Horsemanship which was developed as a way of training your horse to better communicate to the horse what you want, so that the horse reacts in the way you want, and is not frightened. He combines the methods of many of the popular Clinicians of the day, Pat Parelli, Chris Cox, Clinton Anderson and Craig Cameron, to name a few.
We were thrilled that he agreed to fly back to Texas and offer his students another opportunity to learn. I was fortunate in that he also trained Lexi from the beginning, so that she knows the method. The clinic helped us all to get together better with our horses and make sure that they were coming along OK.
Above are Lexi and me (the light colored horse and the woman with the blue T-shirt) riding in a group of friends. A group like this around Lexi used to really frighten her (she was afraid of the other horses) but she handled it well, yesterday!
"Riding toward the camera" (all photos taken by my DH, Matt!)
The assignment here was to obtain collection at the trot. In this exercise, the rider tightens the reins and squeezes the horse with both legs, in an attempt to collect the gait and get the horse "framed up" and moving forward off it's hind legs. I am not actually pulling on the reins, just maintaining a steady contact. Lexi responded by lowering her head and rounding her back slightly to allow her hind legs to drive up under her body.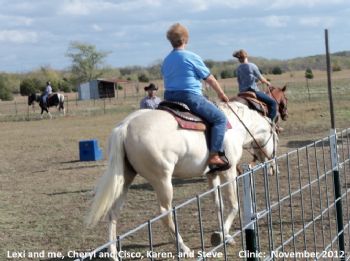 This photo was taken as we were walking around the ring on a loose rein. This is the spot where earlier in the day, the horse behind Lexi shied and jumped forward, startling Lexi so that she jumped, too! It is a surprise when horses do this, and you have to be sitting deep in the saddle to maintain your seat. Fortunately, I was, and only had to perform a "one rein stop" to regain control. It is a manuever our trainer makes us do again and again, as he says: "Someday, the 'One Rein Stop' could save your life!"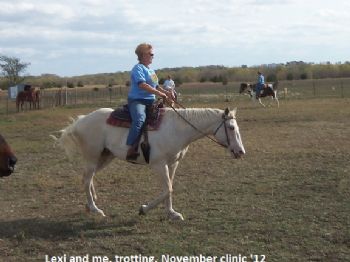 Happily trotting along, head up, hands low, and heels down! So much to remember!

Thanks for stopping by to see how much fun Lexi and I have together!
Oh, an added side effect is that it is also GREAT exercise! Got in just over two hours of horseback riding time!