I suck at walking. No, really. Despite the fact that I've been doing it for nigh on 40 years I am just awful at it. It's not my favorite method of exercise because I can't walk fast and long enough to work up a sweat. My cardiorespiratory system is in better shape than my musculoskeletal system so my knees and ankles give out before my heart rate really gets a chance to raise. It's frustrating but it's a great barometer of my fitness level. So today, despite the rain/snow, I walked.
It took me 42 min 50 sec to walk 2.08 miles. That's an average of 2.91 mph. Not even a slow pace according to the How to Walk article I read here on Spark (
www.sparkpeople.com/reso
urce/fitness_articles.asp?
id=1220
). Gives me a goal, I guess.
I had planned to get to this little park on White Bear Lake (Minnesota) but didn't make it that far. My ankles weren't quite screaming at me, but they were doing that "ahem" thing they do when they're warning me they're going to crumple under my very ample weight if I don't give them a break. So about a mile in I stopped at a canoe launch which had picnic tables and a shelter. (I did mention the snow, right?) Technically it is a park just not the one I was hoping for. Goal number two, I suppose.
The view wasn't bad, though: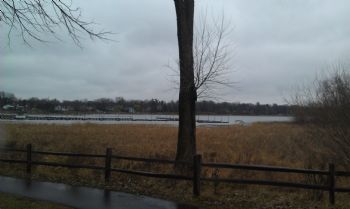 After a short break I made my way back home. I feel accomplished. And happy. Which is all we really want from this Spark Adventure, right?




Because music is everything to me, especially when I workout, I thought I'd share the songs that popped up on my iPod:
1) The Supremes - You Can't Hurry Love
2) Toni Braxton - You Mean the World to Me
3) Supertramp - Take the Long Way Home
4) Janet Jackson - What Have You Done for Me Lately
5) Stevie Wonder - Superstition
6) Duran Duran - New Religion
7) Train - Drops of Jupiter
8) Leo Sayer - You Make Me Feel Like Dancing (don't judge, you know you love this song)
9) Diana Ross & Marvin Gaye - You Are Everything
10) Cheryl Lynn - Got to be Real (instant adrenaline boost, really helped my energy levels)
11) Billy Joel - She's Got a Way
12) Elton John - I'm Still Standing
13) Dr. Dre ft. Snoop Dogg - Nuthin But a "G" Thang