Sunday, November 11, 2012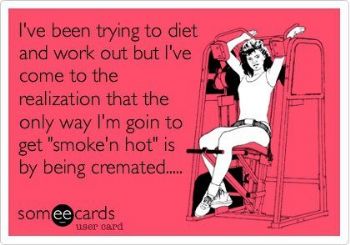 Well, my two meals yesterday were both eaten out, so I am sure the results of that are not good. I haven't weighed yet, but will shortly. :) I skipped church this morning to workout, get the Halloween decorations down and get the Christmas ones up. I am going for a bike ride in a few minutes. Then to get laundry done and get these Halloween decorations down.
Went shopping last night and struggled to find a hoodie/ jacket that I can wear to workout in when it is cold. I tried on an underarmour one that was waterproof. It didn't give at all, and I didn't like that feeling, so I tried on the Men's size and had the same effect. I ended up buying a men's livestrong hoodie. It was black and had pink writing across the chest...so it looks like a womens. I just wish I could wear the skinnny, fitted shirts that normal size women get to wear. I wanna dress like a girl dang it!! Lol!!
Goals for today
Log all my food
Workout