I wanted to wish all of our vets on Sparkpeople a happy Veterans Day. Thank you for your service to our great country. With all of our issues and faults, the United States Of America is still the example of freedom to the world. It is because of this commitment to freedom that we have the right to vote, to voice opposition, and to protest if necessary to express that opposition rather than to simply roll over and accept another edict from a dictatorship.
I guess all of this has brought back some memories...
I remember going to boot camp, Lackland Air Force Base, Texas. July, 1987... 17 and scared, wondering what in the world I had gotten myself into. Never been away from home before. Showing up at 2am. That first night in the barracks, sleeping under a GI issue wool blanket. July in Texas to someone from New York was unbearable.
That first wake up, lights on at 5am (after 3 hrs sleep) the Drill Instructors kicking garbage cans down the aisle yelling get up ladies, move it, move it, move it !!!. This wasn't my mother waking me up for school, these guys were serious.... those that didn't received some rather rude motivation....it's funny now but it was no joke back then.
Then of course there was the designer haircut they gave each of us.... I could have lit a match on top of my head.
In the 80's, there was no such thing as email, IM's, cell phones or Skype. Nothing meant more to a GI than mail call. Unless you've been there, its hard to understand how a letter from home was a lifeline to all I held dear in this world, especially if they sent pictures. My mom wrote me faithfully. I'll never forget that. Pictures of home, what was the latest news, newspaper clippings all held special significance in the life of a GI. We would all gather in the ready room while the Drill Sergeant called out names and flung letters to lucky guys. What got the most attention and howls was when someone got a perfumed letter from his girlfriend back home. I remember how much I looked forward to a phone call home. We would stand in a long line with pockets filled with quarters just for the chance to talk to a loved one.
Things were different then.
Over the process of time I went from a teenage sluff off to someone with an obsessive attention to detail, meticulous folding and ironing my underwear in perfect 6 inch squares, making razor sharp creases in my uniform, and being able to shine my boots where I could use them for a mirror.... I didn't even know how to iron when I got there.... it was learn or else.... I learned everything you ever wanted to know about the M-16 but was afraid to ask...even qualified for marksman.
I remember failing an inspection and getting REAMED by the squadron First Sergeant. All I remember was my face getting really hot and I shook inside but I didn't dare show it..talk about fear factor.
Then there was the time I cried like a baby during chapel service... the love that was shown to me after weeks of stress and rigor on top of being homesick... those were tough times indeed.
Then there was the town pass toward the end of our training.... unless you have been there, there is no way to describe how good it was to visit "the world" or how good Pizza Hut tastes after weeks upon weeks of chow hall......
Somehow I made it through all of that and went to school for electronics and my specialty. I was an Air Launched Missile Systems Specialist.
One of my more colorful memories was when I got to my first base. I had just arrived at Pease AFB, NH (SAC) and one of the first things I decided to do was to go for a jog. I decided to go past the runway and wound up by the alert pad. FYI - the alert pad is a high security area where nuclear armed aircraft stand ready to scramble... not the place to be if you dont belong there...which I didnt... I ran alongside the fence line then decided to stretch out...grabbed the fence...BIG MISTAKE. I set off motion alarms and scrambled the security police. Within seconds I was face down across the hood of a truck staring down the muzzles of M-16's....welcome to Pease... dummy.. in my defense they never warned us new guys about that area but still... it's funny now but then..... not so much.... lol...so much for my first 48 hrs on base. This was not how I intended to introduce myself to the squadron commander.
I spent the next few years on the flight line working on the FB-111A fighter bomber. The sound of the afterburners of a jet taking off rumbles in your chest. The power, the smell of jet fuel, the shriek of engines, the sense of mission to get a bird off the ground, running out there with the engines running to fix a problem so it could take off.
Our base was also the base where Air Force One would land to take President Bush to his home in Maine. I got selected to be on the honor guard to greet then French President Mitterrand on the tarmac. Never met a head of state before. Being 6'1, I remember thinking "wow, that dude is short!" as he rushed by to get into is escort vehicle.
Anyway, I guess i'm just rambling, just alot of memories swirling around in my head this morning that needed somewhere to go..
Here is a pic of me and my dad during our time in the service.
**DAD*** WWII and Korea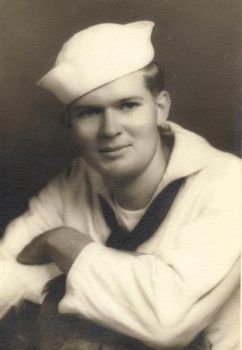 **Me** 1987-1992