Crying inside with no one to help
Saturday, November 10, 2012
I am scared and crying inside, well more like screaming... I know I have a problem.... I am at my heaviest ever... 313.6 and that's a lot for a 5'1 frame... and still gaining... I would have never thought I would get to this point... My clothes don't fit anymore... and lord you should see me in my work uniform... I don't know what i'm going to do if I gain more... Everyone close to me just gets on my nerves when talking about my weight... they don't know how hard it is to try and lose... I'm scared for my health.... I am only 28 and don't want to start having health problems... I just can't seem to find anyone that truly understands me or what I'm going through.... So I turn here hoping to find that one person or several.... I sit here crying wondering what to do.... I want to be the old me... happy and bubbly....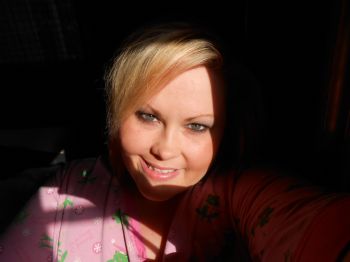 Member Comments About This Blog Post
1DRWOMAN
You are not alone! We have been where you have been and we know the hard work, dedication and COMMITMENT it takes. Decide you will do it and you will! Is the pain of staying the same or getting heavier greater than the pain of changing your mind and body? Only you can decide! It won't always be easy...but it's worth it and you are not alone! Day by day...step by step! You CAN do this!


1765 days ago

PURPLELVR7
You have some awesome advise. I love your plan to start small




1780 days ago

ALICIADENISE109
Thanks for all the support... I knew this was the right place to post this... I am already feeling better about things... and drinking water is no big deal to me... as I have cut out everything but water many many times... and starting tomorrow after work I will walk at least 1 lap at the track.... which is only .4/mile... but like all of you have said start small... thats where I messed up before... I went all in and pushed myself too hard...resulting in me giving up... thanks again!!


1780 days ago

RECMAJOR
You have found the right place to get support and motivation in your weight loss journey. We all know and understand the difficulty of weight loss. I am an emotional eater, but through SparkPeople have been realizing how small steps in changing my behaviors/habits can make a BIG difference in my life. Start with small goals - as you start to see differences in your life, it will get easier to keep the motivation going! Use the resources on this website! Read the articles, use the trackers, workout to some of the videos. I want you to know you are worth the effort to be a healthier you!



1780 days ago



Comment edited on: 11/11/2012 7:09:21 AM
MYLAUREN2
your on your way.... keep your chin up and take in the support that is offered here.


1780 days ago

TOBEANATHLETE


Hey lady!
The realization you made, that it's really time to get healthier is the first and most important step. The hardest part of losing weight is dealing with how long it takes, and practicing patience. I am probably the most impatient person ever, which is why it's so easy for me to quit. But challenge yourself to making small changes, easy changes, like only drinking water everyday. And a lot of it (cuz its AMAZING!). Then next week, eat more vegetables, things like that. And know that you have a TON of support on this site! So use it. And also, please avoid any people who don't have your best interests at heart , don't waste your time with them. I'm starting to realize who my real friends are, and honestly, most of them are on SparkPeople haha. Live for you, and set your mind to this. Be stubborn. It's the best quality in a person trying to lose weight in my opinion. Let me know if you need anything!
(:


1780 days ago

ALICIADENISE109
Thank you to everyone... yall are so encouraging...and make me wanna try... make me wanna lose it just so yall can say "hey I remember you" :)


1780 days ago

WILSHAR7
Maybe the people who say they love you should help you get healthy instead of talking about you. Anyway, you have found a GREAT website to help you. Start slowly and one thing at a time. Try using the nutrition tracker to help you track all the food that goes into your mouth. It's amazing how much you are eating when you have to track it. Get some measuring spoons and measuring cups and start using them. And also, don't forget that the scale isn't everything. Get a measuring tape and measure certain area of your body and keep those measurements. Maybe once every 2 months, measure yourself again to see if you are losing inches. For motivation, maybe someone will give you a spark goodie or maybe you could give yourself one. Read the comments that Sparkers have left for you, sleep on it, and see what tomorrow brings. you have to focus on yourself and make yourself happy and healthy.



1780 days ago

CROWLEY123
I feel your pain Sweetheart, we have all been there. Some of us are there right now.
Pick one thing, just one thing that you can take control of, and get a handle on it.
Maybe you can live without salty snacks, or baked desserts... Just pick a category and wrestle it to the ground. That one victory will show you your inner strength, it will give you power. We all know how you feel. We've all said he same things to ourselves.
And we have all found power, strength, motivation in the friendship that is SPARKPEOPLE. We're here for you. More important, you are here for yourself. You are smart. You are strong, you are ready to start out on a journey toward health. C'mon, we're with ya. We're all in this together.


1780 days ago

SUSANS706


Small changes, baby steps, do not let it all overwhelm you! You are here, that is good. You can do it! One step at a time, giving up will not get you anywhere!!


1780 days ago

JUDYAMK
You need to find what negative consequences are holding you back. See if your insurance pays for a clinical psychologist that can dig deeper into what is going on. Distance your self from the people that constantly make unkind remarks, some people have fear of losing the weight but gaining it back so fear keeps them from even starting.some people think that is all they will be able to do is work out & exercising , you can plan around this. Some people think oh it is all you have to do is eat healthy & work out,, then you are on your merry way to a thinner you. Not so with some of us there are under lying issues that must be worked on to get to reaching our goal. I honestly feel seeing a psychologist will help you get started.I work in a pharmacy for 24 years you would be surprised at the people that were so over weight & tried year after year, it wasn't until they sat down with a psychologist that deals in this , that there way to becoming a healthier person began to work, you see they had to shed the issues first, then it became easier to take care of their body. One step at a time to work through , you can do this ,make that phone call come Monday morning you are so worth it.
Judy


1780 days ago



Comment edited on: 11/10/2012 6:25:36 PM

__IZZA__


Hey Miss!
You have already taken the first step by joining this site.
Why don't you forget about the weight for a while and focus on being healthy.
Small changes can make a big difference such as focusing on drinking more water. Do that and when you succeed try something else such as adding a walk to your day/week.

I think most of the people on this site know exactly what it feels like. I know the hard sides of being overweight.
This is a great site to help you make a change. Just press " sparkpages" below the "community" section and you will see some amazing changes in people, some that have lost more than 200 pounds. Read the articles and learn about fitness and nutrition, trust me it is so helpful.

So wipe the tears away and look forward to the goals you could achieve.


1780 days ago



Disclaimer: Weight loss results will vary from person to person. No individual result should be seen as a typical result of following the SparkPeople program.
More Blogs by ALICIADENISE109