Friday, November 09, 2012
Bacon Pecan Pumpkin Pie
Bacon for dessert? Yes please. This recipe is totally organic, totally Paleo and totally Eat Clean Diet approved.
Crust Ingredients:
3/4 cup almond meal
3/4 cup coconut flour
1/2 cup coconut oil, liquid
1 T unprocessed organic cocoa flour
1 tsp raw honey
1/4 tsp salt
Water as needed
Spray coconut oil
Filling Ingredients:
15oz can pumpkin
6oz goat's milk yogurt
1/3 cup stevia
1 banana
2 egg yolks
1 tsp honey
1 tsp pumpkin pie spice
3/4 cup chopped pecans
4 pieces cooked organic bacon
3 T pure maple syrup
Directions for crust:
Mix ingredients in a bowl and add water 1 tablespoon at a time until it becomes a partially wet moisture that you can spread on a 9 inch pie pan. Use excess coconut oil or spray coconut oil to prep the pie pan, then spread the filling mixture evenly.
Directions for filling:
Add first six ingredients to a large bowl. Use a stand up mixture or a hand mixture to thoroughly mix ingredients, including making sure that the banana is evenly mashed. Spread this mixture evenly in the pie plate.
Break up cooked bacon into small pieces and spread evenly along the top of the pie along with the pecans. Once the pie has been topped with bacon and pecans, drizzle the maple syrup along the entirety of the pie.
Bake the pie at 350 degrees for 45 minutes or until pecans begin to turn dark brown or crust becomes crispy.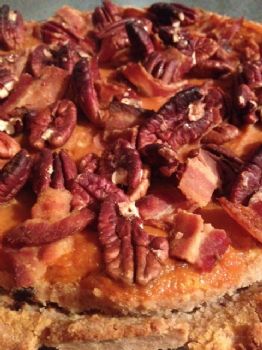 Nutrition:
*Makes 8 servings*
Calories – 420
Carbs – 28g
Fat – 31g
Protein – 10g
Kyra,
The Get in Shape Girl
If you like this recipe and want more like it
Get the Comfort Foods and Tailgate Treats Cookbook today!