Good morning, it's
Breakfast time!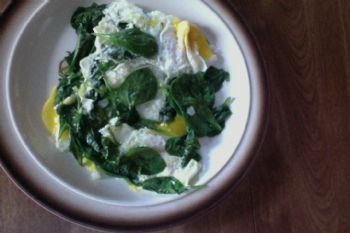 My personal recipe sung to "I can bring home the bacon, fry it up in a pan":
Take a chunk of amish butter, heat it up in a pan.
Then dice up some onions, try not to cry if you can.
Sautee the onions, until caramelized brown.
Now, crack open three eggs and lay them on down.
When eggs start to heat up, go get your greens.
Take a handful of spinach and layer them in,
Three layers of goodness are cooking for you.
Once the spinach is wilted, flip it all to side two.
It'll just be a moment, and we'll be ready to eat.
Sprinkle sea salt & pepper, and now have a seat!
Eating is fun and not having wheat belly bloated after-dinner delight is EVEN BETTER!