I had no idea.
I had no idea that my lifestyle has felt "threatening" to my husband.
I had no idea that my time writing, painting, hiking, has left him feeling so ignored, unneeded and often times, unappreciated. I've spent so much time trying to find MYSELF that I left HIM behind. I had no idea. Until he TOLD me. Allow me to rephrase. Until he screamed it at me. Out of frustration. MANY hurtful things were said on both sides. I felt at the end of my rope. I left two weekends ago. For two and a half days.
But he called and asked me to come home for the Steelers game. WTH? He hates the Steelers. But I drove home and we barely spoke to one another until today. My heart was literally breaking into a million pieces inside. Were the things he said true? Was what I said true? Were we seriously growing apart on every level, not caring about the other, two worlds drifting apart, no longer attracted to one another, no longer willing to bend with the tide?? I was deeply scared. He and I have been through alot in our twenty+ years together and I was beginning to think that we were not going to make it through this one intact. In fact, for the last five years we have been mimicking our former selves...braving a face in front of others, tolerating each other at home.
But this morning...thank God for brand new days...he came to me. Before I knew it, he threw his arms around me, lifted me from the floor and squeezed so hard that it took my breath. I was flabbergasted; if truth be told, I was at a loss for what to do. I eyed him suspiciously as he sat me down and that is when I noticed the tears in his eyes. He asked me if I still loved him. He asked me if I was changing so I could leave him. He asked me if I thought he was too old for me. He asked me why I spent so much time writing, painting, doing the things that he couldn't do with me...it all came rushing out in a torrent of anger, sadness, incredible honesty. He ended by saying I "left" him the day he almost died on the operating table in 2006.
God, that hit home.
Reeling, I couldn't think of a single thing to say. I had to excuse myself and I ran on my hiking trail, trying to make sense of what was said. But then I had to face the realization that what he said WAS true. And I had to face the fact that I DID "leave" him that day. I realized it was because I feared the day he WOULD leave me in that aspect and it was an incredible selfish act of self-preservation. Then suddenly, as if a movie projector was playing in my head, my mind started to replay the moments that he was reaching out to me over the years and I did not reciprocate. I sat under a tree and cried until I was literally gasping for air. Incredible shame enveloped me. Incredible pain shot through my heart...
I arrived in the back door and he was drying the dishes that I was washing before I left. He looked at me and he saw my swollen puffy eyes; laying the dishtowel down on the counter he held his arms out to me.
I ran into them so hard I almost knocked him down. He buried his face into my hair and I soaked the front of his shirt with slobber and more tears. Then he told me he was sorry. Gut wrenched with shame I whispered, "No...no...I AM SORRY..."
We spent the rest of his time home before work glued to one another. Like, two really silly kids that just found a friend in each other. Oh, we have alot of work to do, but suddenly I don't feel so alone. I don't feel so alienated. I don't feel the need to worry if I am loved...or if I love him...
I had no idea.
But now I do.
And now I can rebuild. Allow me to rephrase once again...now WE can rebuild.
It suddenly isn't so lonely anymore.
God bless you all today. Don't take anything for granted. Don't withhold love or hugs from the person in your life. Make every effort to appreciate them, understand them, but MOST IMPORTANTLY, listen to them...
By the way, this is Mr. Steelkickin...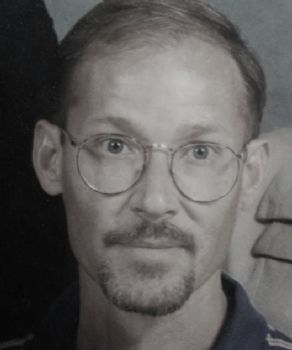 I'm happy to have met him today.