As you can imagine, after months and months of training and anticipation, the news of hurricane Sandy heading toward New York City was watched very closely by the little group of people who made up "Team Friesen." Fred from Queens, Ruth from Virginia, my husband Rick and I from Montana, our youngest son Jared from Alaska, and my brother-in-law Jerry from Oregon along with Sara, Andrea and Jason-- supportive spouses along for the ride – were all glued to the TV the days before and after the storm. The question we were seeking answered was is the marathon still on? As the word came from the city on Wednesday that things were still a go and word from our airline Delta that LaGuardia would open the next day we all breathed a collective sigh of relief. We were in for the "race of a lifetime" – but little did we know this was a race like no other.
The limited number of people on our flights was the first indication that things were not quite as exciting as we anticipated they would be, but we moved forward trusting that officials knew what they were up against. However, the messages we were receiving from NYRR were anything but reassuring. Specifics were few. Yet we began Friday morning with a group photo on the steps of Fred's place in Queens.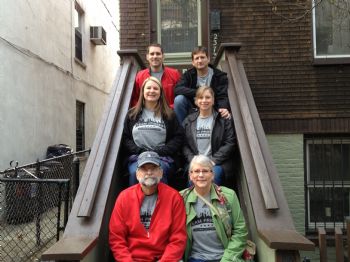 After arriving at the crowded Expo we all posed again with our Bib numbers.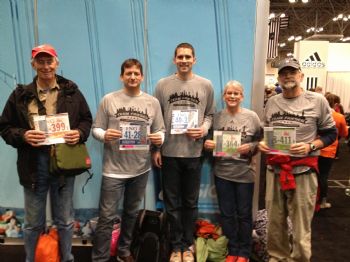 Some of us even got a picture with Bart Yasso with Runners World!
After watching a preview video of where we would be running we were all fully excited and ready to go. After our visit to the Expo, we proceeded to Times Square to get discounted show tickets. Yea, in NYC, why not? We spent some time in a little Irish pub warming up and having some snacks when the news came that the marathon had been canceled.
Seriously, we were shocked and disappointed. The reaction with all of us was all over the map, anger, hurt, questions "why didn't they do this two days ago?" But perhaps even more disturbing was the growing resentment toward runners in NYC and what stress they were putting on the city. While in Midtown Manhattan (where we were) was largely unaffected by the storm, the pressure was growing for "runners to put themselves to good use" when all around us New Yorkers were doing anything but. So we continued to try and center ourselves to a better mindset and place. The reality was, we wouldn't be running a marathon on Sunday.
Wisely, my hubby connected us through connections in our ministry with a small church in Staten Island that was part of a larger consortium of 10 churches seeking to assist in the hardest hit areas. We got up early, and dressed in our orange marathon shirts, we headed to the ferry, took a bus to the church we joined up with a group there. By this time other runners had assembled to run goods back and forth to the distribution center, but few that I am aware of actually dug in (not because they didn't want to, but the connections were hard to make). The picture below were runners who were taking supplies to needed areas.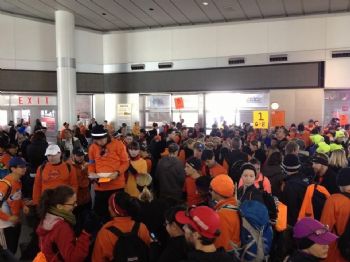 We rode right next to a news crew doing a story.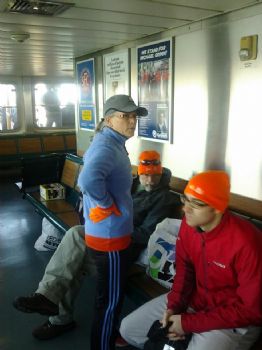 We then drove to our work zone.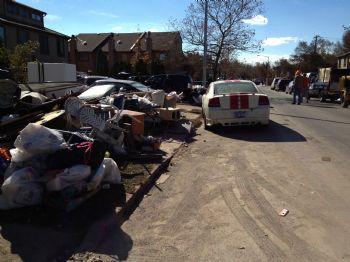 The area where we worked was a set of condominiums only 3 blocks from the beach. The water line can still be seen in the picture below.
We worked in 3 houses stripping the downstairs to the studs, comforting people, listening to stories, and trying to be of help. We worked all day. I only had my running shoes to work in and had to scrap wet sheetrock off them twice just to walk normal. We worked from 9 to 5 when we were escorted by a church member back to the ferry as it was not safe in the area after 5. We were exhausted and tired but glad to have worked. On the ferry, we took this picture of our shoes.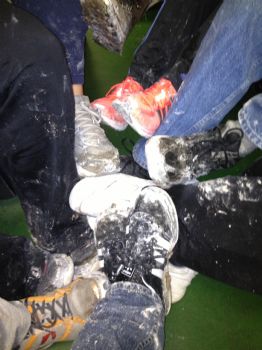 I cannot tell you the weariness that set in at that point. After the incredibly busy fall, the postponement of a wedding, a number of mini crises's, traveling every single weekend, I was done in. I was barely able to think much less process the experience.
On Monday we all headed to Central park and the runners took a picture in front of the now partial disassembled finish line. We all took a final run in the park.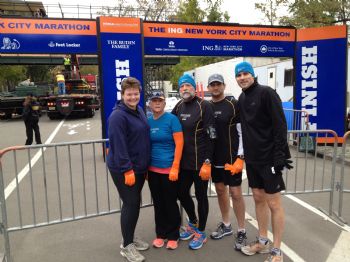 This is hubby and I.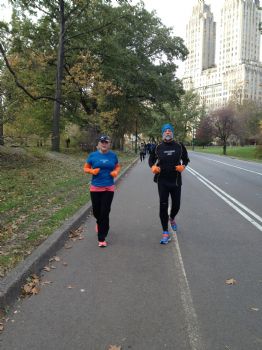 I am still very emotional about it all. We were grateful to be able to be of such help at a difficult time. It was NOT the weekend we had hoped for, and yet, we managed to persevere. Of course, the suffering of others was great and that is of primary importance.
More later.