This is my dad's vegetable garden from last summer.
And his beanstalks. Maybe not magic ones, but gigantic in nutrients!
My dad has been filling our kitchen with fresh, organic vegetables for years, ever since he retired from his job in the city. And I'm grateful for that. And when it comes to food, I owe much of my knowledge to my dad. He taught me proper nutrition principles. Is he an expert nutritionist? Far from that! I'm sure he has no clue as to what "saturated fat" means and he has only heard about "carbohydrates" from his doctor. But he has valuable knowledge acquired from experience and from nature.
He taught me that yogurt is good for us. How did he know? In his village everybody used to eat it! And the high majority of them were privileged to spend more than a century on this earth! He advised me to use lemon juice wherever I could when cooking. He has no idea about its nutritional value but my grandmother used it a lot and it kept them healthy through the long winters. Of course it did since it's full of potassium and vitamin C and it shields our immune system. Not to mention its anti-inflammatory effect. They knew none of this information but, yet, they were wise. Experience had been their wise mentor.
And I wouldn't be fair to my mum if I left her out of this gratitude expression. She passed on to me her passion for cooking and showed me the magic that is hidden in the treasure of ingredients mother earth provides us with. Maybe the love for cooking led me to experiments that became catastrophic for my waistline – sugar is also one of nature's gifts to us – but that's another story.
Both my parents taught me that when it comes to our food, we have to abide by nature's rules. And that's the reason I'm writing all these today. To talk about "seasons" as a concept we should always keep in mind when choosing our food.
When I was a child, our neighborhood's fresh market had a unique characteristic that I really enjoyed! It changed colors according to the season! At least, that's what it looked like to my eyes back then. It became so vivid in the spring with the strawberries and the tomatoes, even more colorful in summer with the peaches and cherries and watermelons, only to cool down at the beginning of autumn with pears and cauliflowers and cabbages and become one with the surrounding fall colors as oranges and tangerines made their first appearance.
As I grew up this seasonal variety disappeared. I could see tomatoes just before Christmas and strawberries in January! Apples would be around all year long and you could find oranges in the middle of the summer. But I knew better. I stayed away.
We have many important reasons to choose our fruit and vegetables according to season.
- Each unique kind of fruit or vegetable needs a certain quality of soil and a specific amount of rain, humidity and sunlight in order to grow and become fully nutritional for us. Each season provides us with the right conditions needed for certain cultivations. When we try to grow them in different conditions, it's like declaring a war to nature. And nature fights back by robbing them off most of their nutrients.
- Nature is wisely constructed for our benefit. Each season, we need different foods for the different needs that our body has. For example, in summer we need fruit that will reduce our body temperature, like watermelon, and fruit rich in carotene, like apricots, which protect our skin from the sun. Eating what's in season will only help our bodies function better and protect themselves against any kind of dangers that each season brings with it.
- Foods that are brought to us in different seasons, contrary to nature's will, are actually born in a "cruel" world since they are grown in different circumstances than they should be. So, they need some "help" in order to survive. A great variety of pesticides and chemicals come to the rescue. And to our plates!
- Foods that are not in season in our country could be in season in another country! But they need to travel lots of miles to reach us and this reduces their freshness. So, another set of chemicals is used to help them look their best when they get to the market. And of course their "make-up substances" and their long trip cost a lot, so their price has to make up for the expenses.
- Freezing and frozen products may sound like the solution. And it's a really convenient idea. But experts say that freezing also destroys a certain amount of vitamins and nutrients, so why not choose fresh when we can? After all, what can be compared to the taste and aroma of fresh fruit and vegetables?
Being "seasonable" eaters can have a surprisingly beneficial effect on our health, our weight and even our finances. All we have to do is research and educate ourselves on what nature has to offer to us every month of the year. Think about all the fresh ingredients your meals could be enhanced with and all the variety this could bring to your family's table. Isn't it worth a try?
I would be really glad to offer you a list of my own seasonable options but I live in a different part of the world and things could be slightly different than where you live. So, instead of misguiding you, I found this article on Sparkpeople about fall's choices:
www.sparkpeople.com/reso
urce/nutrition_articles.as
p?id=956
I've also come across a very nice video which discusses many important subjects concerning our food. I thought you might find it interesting.
www.youtube.com/watch?fe
ature=player_embedded&v=Pz
GSHTP-U20
Everything – and I mean everything – that we eat originates from nature. Doesn't it sound logical that we get the best it has to offer if we follow the rules? It does to me!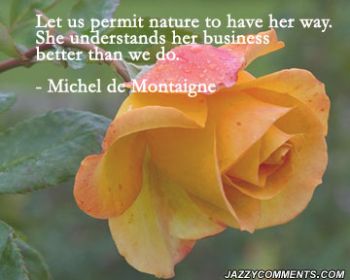 What do you think?