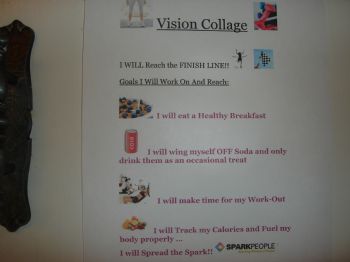 I will Reach the Finish Line before 2012 is over!!
I have lost 34 lbs and have *14 lbs. to Go* to Reach My Goal Weight & Finish Line!
Thanks to ME for FINALLY deciding to LOVE Myself and STOP being my own worst enemy!
I was the WORST about Negative Self Talk (beating myself up daily) and setting traps for me to fall in and stay in "Failure-Mode."
I was the yo-yo * fad diet queen!
THANK YOU SPARKPEOPLE for the CORRECT Information & Life Style Plan which lit my New Pathway to Success which finally got me out of the darkness!
THANK YOU SPARK-FRIENDS for your Support, Friendship & Kindness!
I have a Weight-Loss Tool Belt packed with all the tools to help me chip away the old me and polish the New Me!
You may be asking: What in the world is in your tool belt?
How can I get one? Can I get one?
The answer is YES!

Here is what's in my Weight-Loss Tool Belt:
The Spark book

The SparkPeople Cookbook

SparkPeople.com where I visit my Spark Teams and Friends which provide Motivation/Encouragement
...All the tools here like the Nutrition Tracker, Fitness Tracker, Spark Points and so on.
My Spark Team (Leader) READY * SET * SPARK!!
The Nov. Challenge has really kick-started a new fire in me and I'm lovin' the spark that has spread to the Friends/Members that are doing

That motivates me even further!
A good collection of Cardio & Strength Training DVD's and simple equipment like dumbbells, resistant bands and a yoga mat.
A Healthy Kitchen: Pantry, Fridge and Freezer filled with wise and healthy foods/options
Family & Friends Supporting Me
and my DESIRE & WILL POWER to Reach the Finish Line.
I cannot express how awesome it feels to know this is the LAST TIME I will ever have to take weight off!
Once I reach Maintenance, my journey will stay the same here so I never put it back on again because this IS my new Life Style and that brings me comfort and peace of mind.
This journey has been so rewarding because I have had so many victories and have accomplished so much. (Re: Fast Break Goals, Goal Setting/Motivation, Spark Teams & more!)
If you are reading this and thinking at this very moment: "I wish I could have that."
YOU CAN! Get in the GAME! Get Involved! Start Slow and Get Your Tool Belt On!