This is from a Blog I wrote December 8th 2010:
On November 18th 2010 i was diagnosed with Breast Cancer...my doctor just kind of said it..and i will never forget those words....."You have Breast Cancer" right after asking me "How are you?".....
December 16th 2012: I will be a 2year Breast Cancer Survivor




The Susan G Komen 'Race for the Cure' is held all over the USA to raise awareness about Breast Cancer which brings me to this:
When was YOUR last Mammogram?? Can't remember?? You NEED to pick up the phone right now and make an appointment...please do that for yourself..NOW!
Last year I was registered and had planned to participate in the Race for the Cure....but I was not able to go.....I was still too weak and was recovering from Chemo and Radiation.
Fast forward to this year! The Event was on November 4th and I was ready!

Registered?

Energy?

Friend who was willing to walk with me? (You be surprised how quickly one can find out what a real friend is when it comes to certain things..sighs...)
...but anyways...Friend?

New cute...but comfy shoes with some pink:


I had to leave my house at 430am to get there by 6am....the Survivor Breakfast was at 630am......and the 'untimed' Walk started at 8am......there were about 12000 people..... the weather was gorgeous.....not hot at all.....remember I am in Texas...and where I live is still in the lower 80's!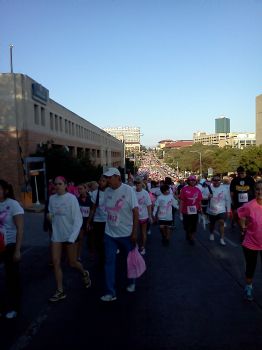 Austin Texas..about 12000 people walked or ran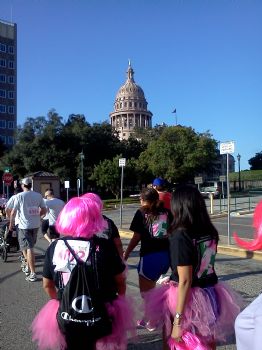 Capitol of Texas in the Back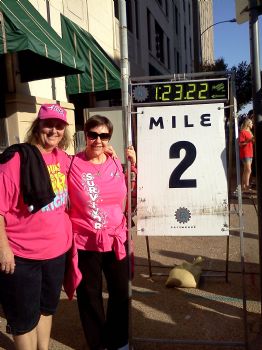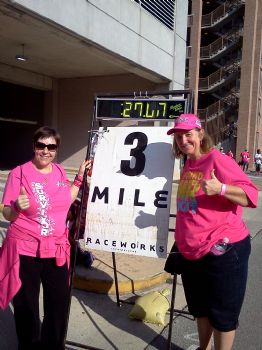 Shout out to my friend Deb...she walked the whole 3miles......big accomplishment for her...

Debbie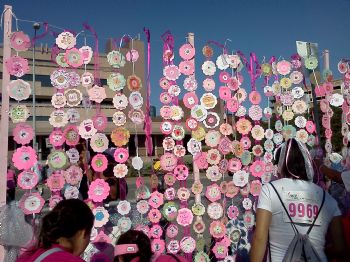 Wall of Flowers for the Survivors