My hometown 5k was Saturday. When I registered, my goal was 28:07 which would be 10 seconds faster than last year, but then I got sick & really didn't run much the last couple of weeks so I changed my goal to anything under 30 min.
I might not be Queen of the 5k, but imagine my joy when I came in at 27:28. How about that! Listen to me, Miss Cocky Britches.
Of course it wasn't good enough to place in my age group. I thought maybe next year when I move up to the 40-49 group I could place…but I'm not holding my breath. I still wouldn't have placed with them. And this isn't a big race. A whopping 75 participants and I come in at # 36. There was only 1 in the womens 50 ag, so maybe in another 10+ years I'll get one. Even though I didn't get a medal, it sure was a lot of fun seeing some family members get theirs.
I probably sound like a broken record, but my aunt amazes me. In the last 2 years she's started running and lost over 100 lbs. She will be turning 50 in about 2 weeks. Her time was 24:49. Holy cow! When they announced her name that she got 1st in her ag, we turned toward each other & screamed with jazz hands.
Then, they announced that hubby won 2nd in his ag. He had wondered off & was looking around the health fair that was going on. They were WAITING on him. Finally I saw him & yelled he needed to come on because he got 2nd. He didn't believe me & took his time getting down there while everyone was WAITING. Good grief, lol, he wasn't expecting his award, either.
My son did the 1 mile race. Last year he came in 2nd overall behind a boy a bigger kid. This year he said he would be mad if he didn't come in first. Yeah. Nice attitude. We had to have a few talks about that. Anyway, when we were getting ready to leave for the race I told him to put his new shoes on. He said he wanted to wear his old ones because he felt like they would be his lucky ones, that he would be faster in them today. I was a little embarrassed because those old shoes are in bad shape, but if they gave him confidence, who am I to tell him no?
He came in 2nd overall again this year, but this time the person who beat him is what he called an "adult". She was actually a very tall 14 yr old. He wasn't bummed about coming in behind her because he got a medal for 1st male & a ribbon for 1st in his age group.
Here he is coming to the finish line: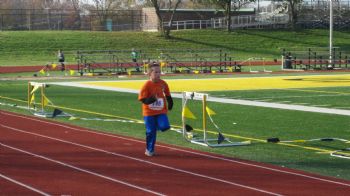 Here he is thinking he is going to die afterward & a good look at his lucky shoes.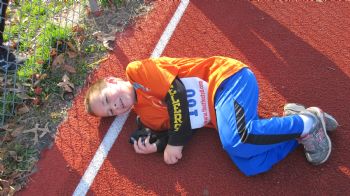 Here is my running family, minus a cousin who was sick. I'm on the top right.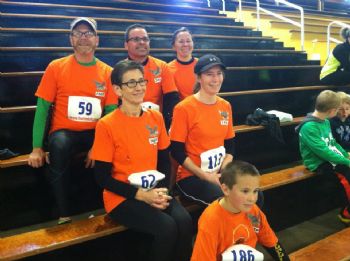 And here are our medal winners. It was such a fun day. My son told me several times this weekend how it was one of his favorite days of the year. He also told me that next year he'd rather me get a medal than him. What a sweetie! But I told him I don't need a medal to have a good time.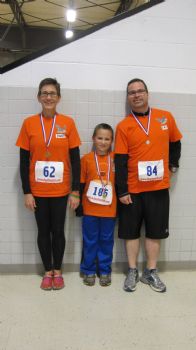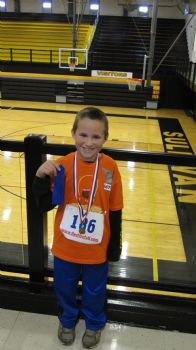 There is a guy who comes in 1st-2nd-3rd every year. He has the same last name as my family, but he is too distant of a relative for me to know so I've never talked to him. He is THE guy. He's, like, famous, lol. Anyway, when we were getting our bibs on, he saw the name on our shirts & he came up to us & said "That's my name. I should be on your team". So now we are FAMILY, lol. Next year we've got him & his brother who is also crazy fast on our team. With these guys we are practically guaranteed first place. Those other teams are going DOWN.