Since July 2012 I have been training at Crossfit Southie. This was a decision that pretty much made itself. After years of circuit training and HIIT cardio, and maybe a little heavy lifting on my own here and there, I achieved my goal of getting lean. My body fat was well into the teens, probably as low as about 17%. I got stronger over time and I gained muscle too. I mean, just because of circuit training and HIIT I went from this to this: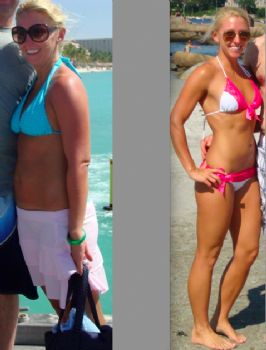 Then, over time my goals shifted. Of course I still want to look great, but my goals arenít totally aesthetic based anymore. My goals are primarily performance based now Ė I want to get stupid strong. Eventually Iíd love to get involved in power lifting or olympic lifting competitions, but for now, I want to get more training under my belt. So for that, amongst a couple of other reasons, I decided to join Crossfit Southie.
Like I said, my goal is to get a lot stronger, specifically, I want to squat 200 pounds by the end of 2012. Since early September by one rep max back squat is 165#. I even tried squatting again as recently as Friday, October 26th and I am still stuck at 165#!!!! Itís so frustrating.
I do all of these things like squat with chains, squat to a box, front squat, etc, etc, etc so I can squat more, and itís just coming along soooooo slowly. BUT, this goal is important to me, and just because I havenít been able to accomplish this over the last 2 months doesnít mean I am giving up. Iím just doing everything I can to make it happen, and I know because I refuse to give up, that it will happen!!!!
Part of this goal of getting strong also includes putting more muscle on my body. Let me tell you.. gaining MUSCLE as a girl is hard. Iíve been conditioned to be scared to eat my whole life. Women are conditioned to want to be small. Thatís why women count points, count calories, count macros, count calories burned, count minutes doing cardio and god forbid you donít burn more than you take inÖ. thatís just a disaster!!! Overcoming this mentality has been the first obstacle.
I have to eat more than ever before. I found out what my BMR is, including activity, and I try to eat MORE than what I expend. Mentally, that has not been easy. Sometimes itís not even physically comfortable, and to be honest, Iím not really good at it. To truly do this, I need to eat more protein, so as of next week, Iím adding a second protein shake to my day Ė Iíll add in casein at night before bed. I have however, had no issues eating a full jar of almond butter each week!!! haha
My lifts are increasing. Things like my overhead squat, my clean and jerk, and my front squat are all certainly improving. So I know it is all working, itís just a slow process. When I began Crossfit in July I was weighing in around 128 pounds. Within about a month that changed into 130 pounds, a weight my body is very comfortable at. Now, Iím weighing in around 135 pounds, but I donít think itís any fat at all, thankfully.
I take photos of myself every 4 to 6 weeks to keep track of my progress. Stepping on the scale does nothing for me. Itís so subjective to how much water I am retaining due to food, the time of the month, time of day.. blah, blah, blah. Pictures and clothes tell the truth, and what they tell me is that my legs are getting way leaner (I can see definition in my quads sometimes!), my butt is getting perkier and bigger (yay!), and I almost always have visible abs.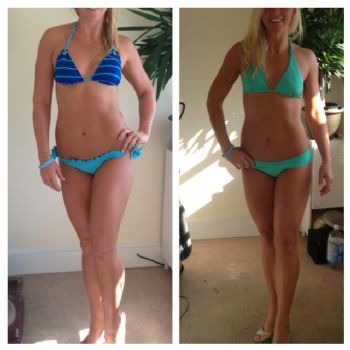 Iím not going to sit here and say this is all because of Crossfit, because in all reality I have never eaten this well consistently, in my life. I finally just gave up sweets. Iím totally addicted to sugar, and I canít stop at just one bite or just one serving of whatever it is. So I gave it up altogether and I eat lots of meat, veggies and FAT!!! Lots of fats like avocado, almond butter, pecans, bacon, etc. It gives me so much energy, itís high in calories and it makes my cravings non-existent.
So now, do my job for me. Do you see any changes in the last six weeks?
I think I need to eat more protein to build more!