On December 3, 2011 I ran my first race, a 5K in Orlando, FL. I had just turned 65 years old. This was after about 10 weeks of training, which started quite innocently as a way to lose a few pounds. I enjoyed it so much I thought I'd try to do a 5K.
Fast forward just about one year, and I have completed my 1st Marathon. The Savannah Rock N Roll Marathon, on November 3, 2012.
Having started only a year ago, I had no idea how this was going to go. Oh yeah, I had my secret hope of finishing in a certain time, but what do I know, it was all guess work. I had no idea how difficult this task would be. To further complicate matters, I had recently been in a small accident, where I hit my ribs and back a good shot. I have been in pain for the last 2 weeks and wasn't sure how that would affect my race. As it turns out, that was to be the least of my worries. In fact, the ribs hardly hurt at all once I got going. My feet and knees, which had given me trouble in the past also turned out to be almost perfect. Very little pain or discomfort. What did come upon me, was very serious leg cramps later in the race! This never happened during training, so was a complete surprise to me! I toughed it out, stretched as much as I could and was able to finish.
We got to the start line very early, and had to hang around for over an hour to start. I got up too early, didn't need the alarm. So I got dressed in the RV and was all set, so we just marched off to the race - a mile long walk. A nice warm up.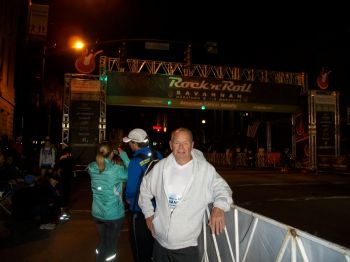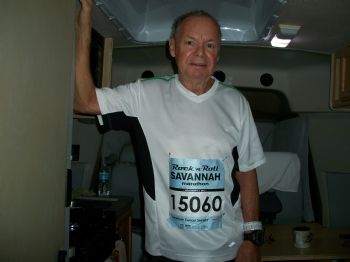 I found my corral easy enough and settled in. DW took a few pics of me standing and waiting. I saw a pacer holding a 4:45 sign, so I thought I'd follow her as long as I could. Which I did until the half marathon mark, and then I lost her.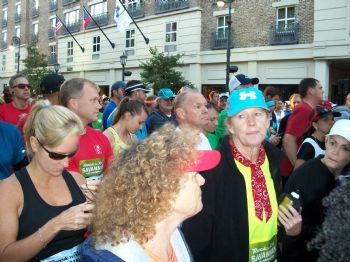 Once we got started, the first thing I noticed is the massive crowd and onlookers standing on the roadside, all supporting the runners. This went on for almost the entire length of the race. Not having done this before, I was VERY surprised at the huge amount of spectator support. They were out there for us.
The first several miles went just fine. Wasn't too sure about pacing. I didn't want to go out too fast, and I'm just not good at doing my own pacing, so I followed the 4:45 group. This seemed comfortable to me, not too hard. I drank water and gatorade at every stop, carefully attended to my intake of food. I had fig newtons and gummy bears, and a couple of GUs as well. I took in a packet of salt in the near beginning, too. I thought I had this part covered.
When we hit the half marathon mark, the group split up. Half marathoners went right, full marathoners went left. It was now 2:20 into the race. In hindsight, probably still too fast for a marathon pace. I did feel like I was working now, so I slowed down and lost sight of the 4:45 group.
I was now walking once in a while. The miles went by.
Miles 16 through 18 we ran through Savannah State University. I have to say this was the highlight of the race. The kids were out there in full force, and they cheered us on continuously. I couldn't count the number of little groups, doing cheers, dancing, playing music, clapping and yelling. A couple of times someone would run with me, clapping, "you can do this", "I can't run around the block, good job, sir". They were just terrific.
We ran around the athletic track, and I was not feeling like running, I wanted to walk, but I kept going. As we left the campus, my legs began cramping. Calves, quads, AND hamstrings all took their turns. I had to stop several times and stretch. Of course I worried that the cramps would not go away - it was only mile 18 or so. It took a couple of miles of nursing them, stretching, massaging over and over, but they eventually weakened their grip enough to run again.
At one of the water stops they had salt packets, so I loaded up on salt. That may have been what pulled me through the cramps. Certainly, I had been careful with my hydration and eating. I took salt before the start, and during - but maybe not enough.
At the mile 20 sign I laughed and yelled at the 'race coach' "Oh no, The Wall!" which got a lot of laughs and positive reinforcement from the supporters on the side of the road. I never really felt like I hit any wall, it was just constantly being tired - no significant, bump up in fatigue. So I kept going as best I could, now walking a lot. When I tried to speed up, the cramps came back, so I stayed at a slower pace, taking smaller strides which seemed to work.
Just after mile 23 we started back up the ramp to the Harry Truman Parkway, out in full sun, uphill. We runners mostly walked up this hill, it was rough on all of us who ran this pace. For that matter, the rest of the race was uphill, in varying degrees. Not good. This was boring, because there were no spectators, but not too boring, because it was the final 3 miles, and I knew I was within the closing miles of marathondom.
Exit the parkway at mile 25 and heading to the finish. There would be no final push on this race. I was running on willpower, in some pain, but determined. I chugged along the final corridor hearing all the crowd support, they meant well, but it didn't help me much at this point. I forced myself to smile at the finish line, and stumbled across.
I had completed my first marathon!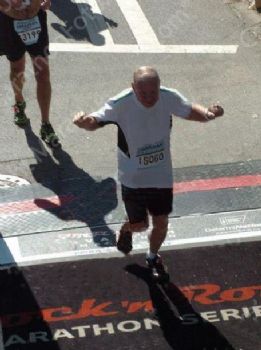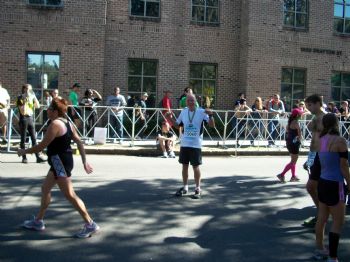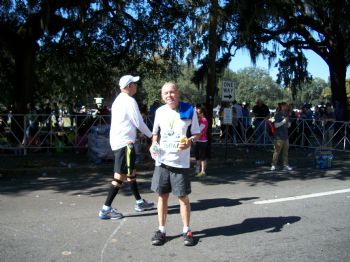 DW was there, took some pictures. I was in a fog, no sense of elation or emotional reaction that some have. I was expecting it, but in my case, I just felt calm, proud and tired. Interesting, because I have read many marathon reports and folks often are overwhelmed by emotion. Not so for me, that was my reaction and it sort of surprised me.
There was so much food at the finsh! Bagels, chocolate milk, GU, energy bars, fruit cups, bananas and more I am sure. I had no appetite but I forced down a banana and chocolate milk. I took a Snickers energy bar for later.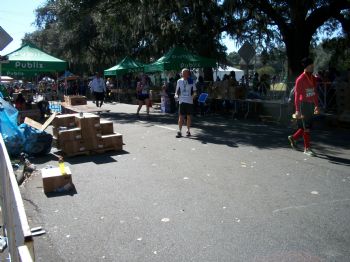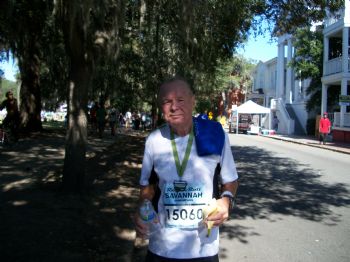 Sat in the park for a few minutes and then walked back to the RV parking lot. It was another mile of walking. No problem, 'cuz I wasn't in a hurry.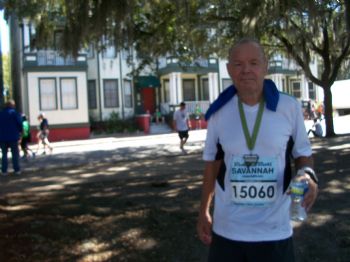 Once I arrived at the RV, almost immediately, I went to SparkPeople.com to see if Spark Friend Laurie, LAURIE5658, had anything to say on my page. I knew she had been watching my race via some virtual race thingy online.
There were lots of nice comments. The first from Laurie and more from Richard, my geezer pal, ONMYMEDS, who also was spying on me online. He and I both started running at a little later than most, and we both ran a marathon within a year or so of starting. So, we share information on our unique situation. Thank you, Laurie and Richard.
All in all a wonderful experience.
You have to be a runner to understand how something so painful and exhausting can be called "a wonderful experience". But, I guess you sparkers understand.
Thanks for reading and have a great day.
Edit: I just went online and checked the race results. It seems I won 3rd place in my age division on my very first marathon!!
Edit 2: Just found out there has been a corrected race result. Now I am posted as 4th place, after the correction!