Sunday, November 04, 2012
We had a great hike today through a beautiful canyon east of Bend Oregon, Dry River Canyon. The canyon was carved out during the Ice Age, when the Millican Valley was covered by a giant lake, and a small river drained out of the lake, carving a very dramatic canyon out of the lava rock. I had a larger group of hikers (15) so I am glad that John agreed be my assistant leader on the hike. Unfortunately I didnít realize that my camera got re-set to video instead of photos, so many of my favorite photos from the hike had to be tossed out -- a film of a cave, a golden eagle nest, or beautiful canyon walls is not very dynamic!
We hiked about 5-6 miles; mostly fairly easy but with one difficult rock scramble. Here are my three surviving photos!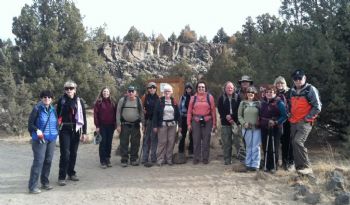 Hikers at the trailhead (canyon walls in the background)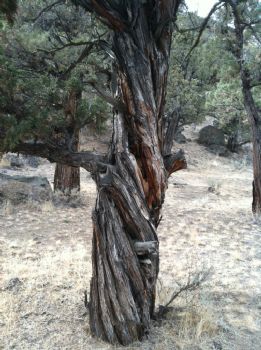 Some of the juniper trees are twisted like peppermint sticks. Other trees have twisting holes all the way through the tree -- but they are still living trees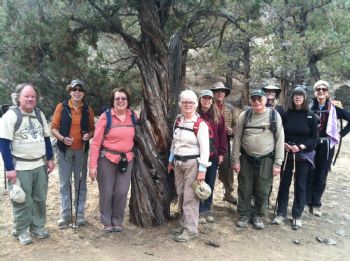 Hiking group