Woke up to another dull, dreary overcast day. Bad G.I. pain wracked my gut, moped around, went to the bathroom. Didn't feel much like doing anything. Had a quick fruit shake for breakfast to take my medications and went back to bed. I spent from midnight until 11:30 am lying down and amazingly, getting the most sleep I have gotten in 20 years aside from frequent bathroom breaks. It meant not getting much done and no exercise, because if I moved rude things felt like they would happen :( I had my last fitness class Thursday night with Glenn, a tough Bootcamp and a step class. The snow was falling as I left the building. By morning it was at mid calf. I trundled to the club to set up my Friday game and do month end work. I almost didn't make it across the intersection it was so slippery. Under the loose snow, it was melting on the bottom, and the cars were churning it up and smoothing it down into an ice sheet. No chance of passage on my scooter to any classes. It won't get traction on loose snow or ice. It was a challenge to just plow through it walking on the uncleared sidewalks. I could have clobbered the guy who shoveled his driveway out to the street, leaving a three foot berm covering the sidewalk for me to crawl over.
I paid $20 for a special Zumba master class and was determined to make it that Friday evening even if I had to take a cab. None of my relatives were available and bus service was terrible, running every hour, and to get to the place I needed would have to travel downtown first and then back track to the gym. So I spent $15 on a cab. Was worth it! An amazing evening! Who would have thought Zumba with a chair being a great workout??? It was! It was also a dress up night which I didn't know about which is a shame because I love to do that :((
The instructor for the chair was Roberto and being from Mexico the theme was Night of the Dead. On November 1st and 2nd, in Mexico they celebrate the ones they have lost. The first night is for children, the second for adult. they construct an alter with their photo and favorite things on it. In Roberto's case, his grandmother loved corona!!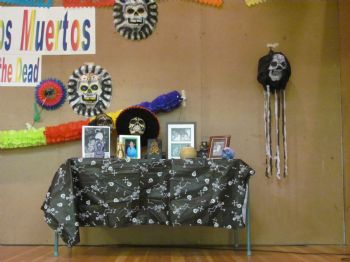 The other side: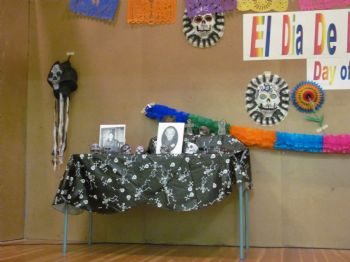 I saw all three of the remaining Zumba instructors that they have at the fitness facilities we go to -Kristan was doing the Hawaii number:
Bernie was dressed in her usual black so not a stretch for her its the only color she wears :P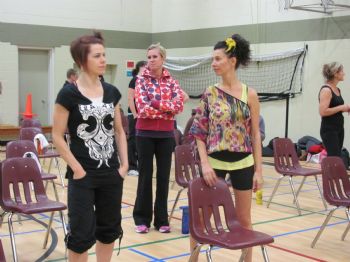 I was very surprised to see my Zumba Gold instructor there leaning on the chair with the blue top. After the party was over, she was walking by me waiting at the bus stop and asked what one I was waiting for and looked it up on her smart phone and said I had a 45 min wait :( She, a senior, was going to WALK back to her home in Market Mall!! That astonished me as the streets were so very icy! I wished I could have walked back with her, but I could not risk falling with my new hip :(( It also turned out she was the daughter of one of the bridge club's most storied members!! What a small world!!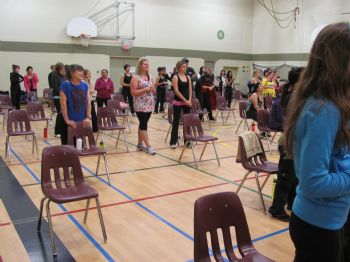 Kerri and Roberto Morales getting ready to party!
Kerri had some neat make up on which I wanted a close up of, turns out it was tatoos. A number of girls were wearing them. Wonder where they found such elaborate things?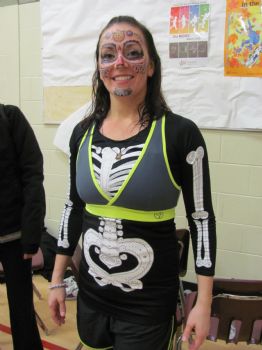 Party getting ready to rumble. Sorry, no action shots, was too busy enjoying participating!!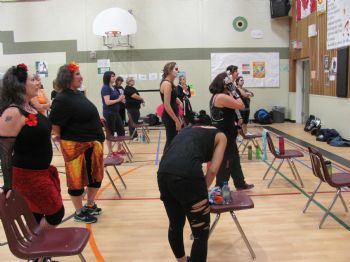 Mom & Angus drove me to a couple of haunted houses featured on the news and paper. This guy took three months to set up his display: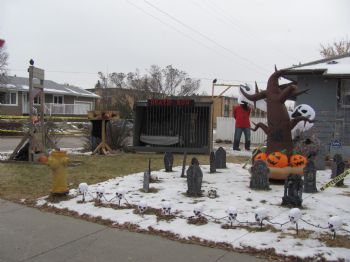 Love the car through the brick wall and note the mail box beside it with hands coming out of it :P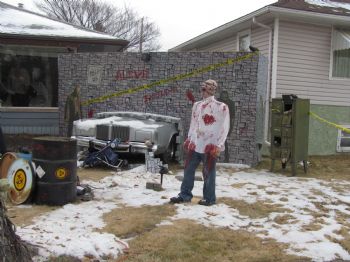 Its hard to see, but even his living room window had figures in it!!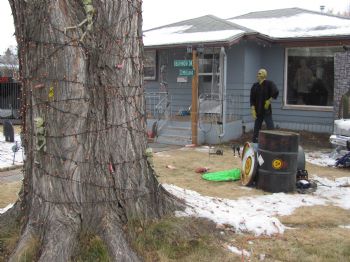 The entrance: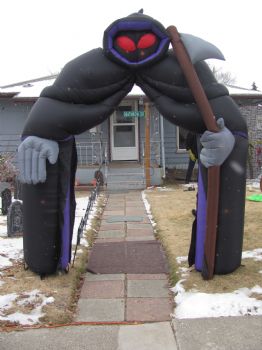 Next door to my sister-in-law was this snowglobe: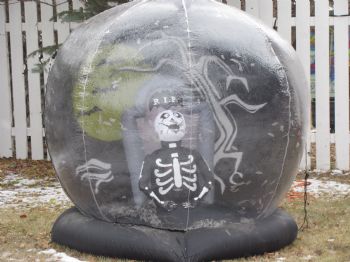 A number of tree things: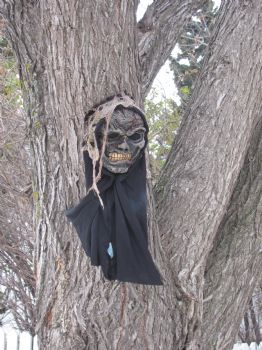 This one had more traditional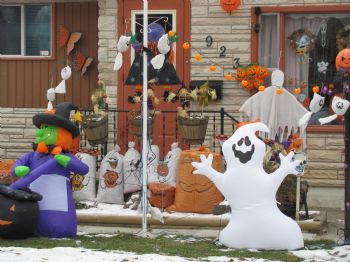 The mall merchants gave out candy for one hour on Halloween. It was packed and they were really moving so any shot I tried was like this: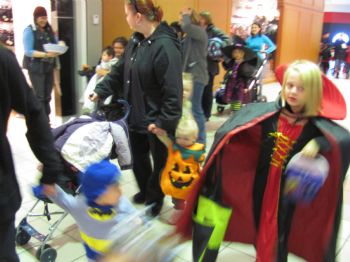 A lot of merchants dressed up too - a very rare lull in which I managed a photo -lasted maybe 30 seconds lol.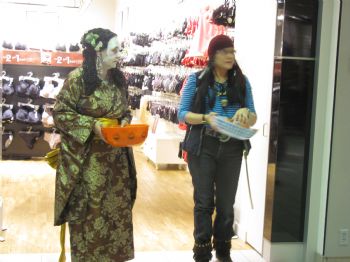 Then it was back home waiting for the parade of kids to come around.
This boy had the cutest smile, those dimples, and brave, wearing a body suit in the cold temperatures. We have never had a Halloween above freezing without the usual howling winds or falling snow: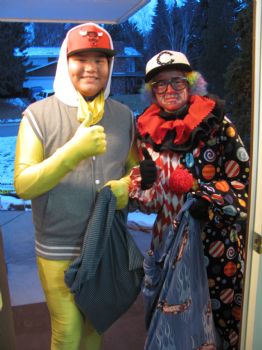 This was a sweet collection of girls: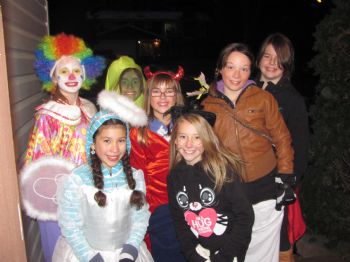 And some boys! Mom embarrassed me not knowing the dog was scooby doo!! I used to watch that program all the time when I was a kid!!
Always have to have pretty princesses: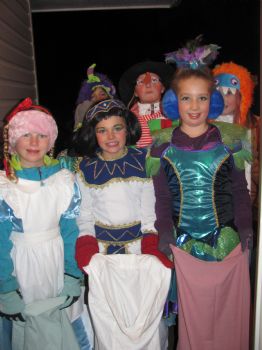 The kids were all unfailingly polite, not pushing, rushing, always thanking us and some even wishing us a Happy Halloween! I am not up on the latest kid stories or games so some characters were a puzzle to me: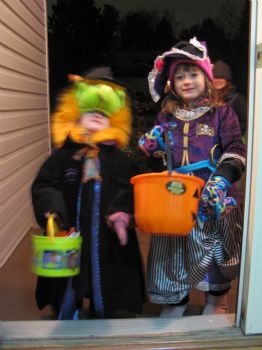 This strange box character was at the mall too. I do know at least, Sponge Bob Square Pants enough to know that wasn't it. Apparently, its a video game character? A goodie to the first person to identify the game and character name: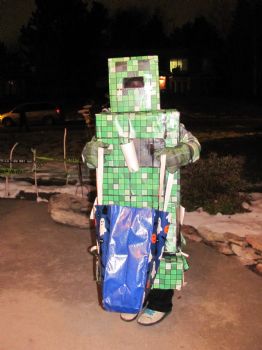 I was wondering how well that dude could see through that mask lol: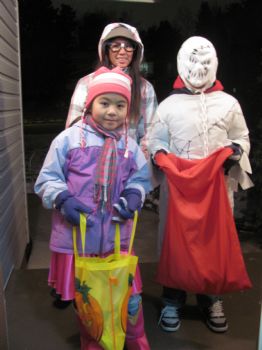 Is this Dracula just having feasted, with the cape, or a zombie??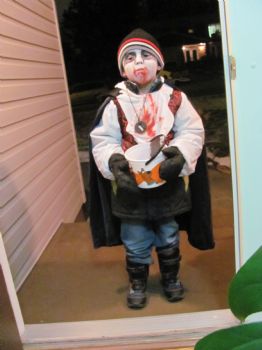 The view out my window Friday morning: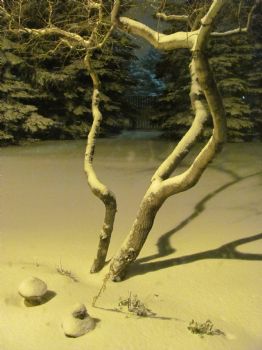 By nine am I was ready to go to the club and do my set up, this was what greeted me outside my building's front entrance: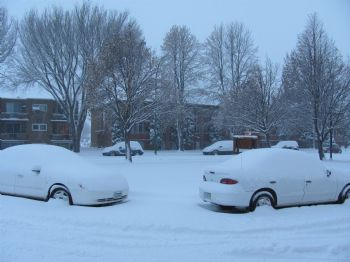 The caretaker had already taken the first layer of snow off, but it was still falling: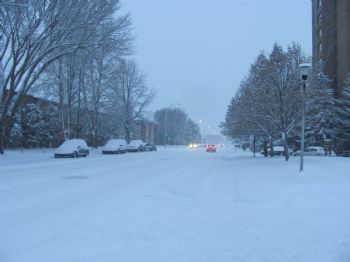 Its been a very rough week for me, very busy and with more stomach upset. Evidently, the acidophylis treatment isn't doing anything for me. I have also been out of pain medications for over a week. I will finally see my Dr. on the 8th. It was disheartening to see the snow come and meaning an end to my mobility, independence and enjoying my fitness classes. I just have no time to ride the buses around to get to them as there is no direct service there and all would mean actually going downtown, waiting for a transfer for 15 min then backtracking back to them. I get there faster on my scooter!! Part of the problem is they only run every hour too. If I didn't have the bridge club, I would have time, so its a real pain. It was the scariest feeling I had when trying to cross the intersection, it felt like I was floating, that my feet were not gripping anything and the slightest twitch of my muscles caused sliding. I was lucky to make it to the bridge club and back. I so, so hate this feeling I deal with every winter. As we have always wildly fluctuating temperatures, its always freeze, thaw, freeze, thaw leaving the place a skating rink and making it thoroughly unpleasant and unsafe to walk. I also hate being cooped up as I am this weekend, with nothing but my neighbour's smoke to inhale. I miss my fresh air!! A week without sunshine and another week forecast of the same has left me feeling rather blue. There is nothing much for me to really look forward to now. Just month end, year end reports and the general annual meeting, getting the date book ready for publication and hoping that this time, finally, there will be no errors!! As sleep deprived as I am, I can read over the same thing again and again and still not catch an error :(
I have spent all day Sparking and not getting any work done, and I am still not caught up with everyone's blogs, so be patient, I will hopefully make it around this weekend. Just so slow typing. I like to know what is up your world!
I am still not getting the emoticons working properly so I have to put them in one by one. It sometimes works half and I have to correct errors in the formatting. Wish I knew why that hold down the m to get multiple emoticons stopped working. It was so handy! My computer updates every time I turn it off so I am sure all my plug ins are current.
Bye for now!
Hugs,
Linda