Fast Track...
Saturday, November 03, 2012
No, the fast track that I am talking about has nothing to do with losing weight quickly. I am writing this blog to share what Fast Track is all about. I often refer to it in my posts with different Spark teams. I thought it was time to show you all that are interested what it is all about. I play every Monday morning with a group of friends I exercise with. It is home made game that is played with a homemade board, a set of rules, a set of markers (we us painted golf tees) a deck of cards including the jokers and a group of friends who love to laugh!
I've included a link to a web site with the board and the rules.
https://sites.google.com
/site/fasttrackplus/rules
The picture below is one of the boards that our friend makes and sells.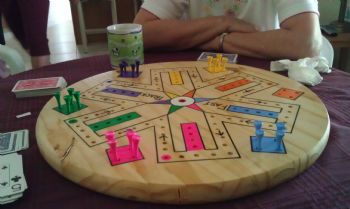 The above picture is a game board for 2-6 players.
It is a fun game, and as one friend says "A fast game is a fun game!" Easy rules and you never know who's going to win...lots of twists always happen!