Friday, November 02, 2012
Here I am cooking one of my favorite Spark Recipes, Sausage Scramble. My little brother is staying over recovering from a kidney stone surgery and needs to eat healthy. So, I whip us up some num-nums. In this video I also talk about a plan I made to post a vlog everyday. The vlogs will be of me doing or talking about something healthy. These vlogs will help to keep me in check and make me expect more from myself.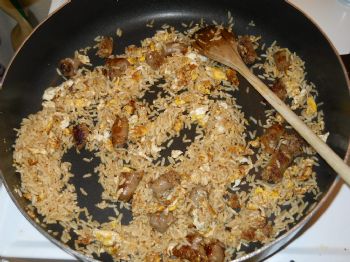 Here's a picture of the finished scramble as promised. My brother wasn't too sure about the brown rice but gave it a try and ended up not asking for "extra" salt! He said the Dash was just enough.