I told you I was going to show off Biggie Smalls, right.
Here you go.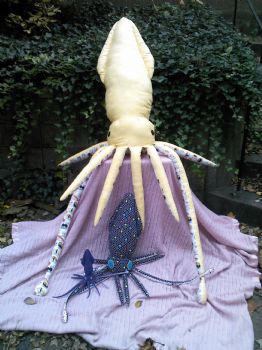 That's him with his crew, Clyde and Violetta.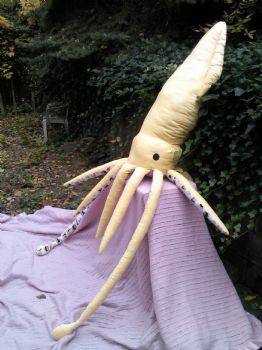 In profile, looking like the bad @ss gangsta squid we all know he is (despite is mellow yellow appearance).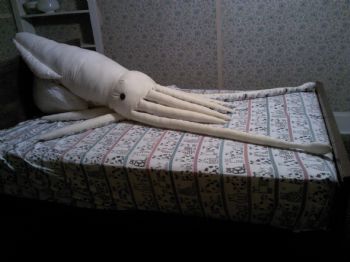 Sexy boudoir photo!
To give you a better idea of his size, that's a standard double sized bed and he's filling it up. Yeah, ladies love a big squid!
Here's some other stuff I've been working on.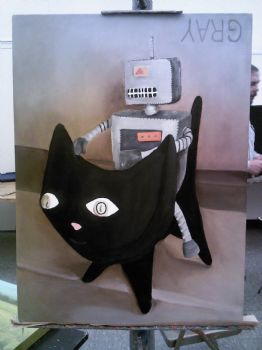 That's the latest pic of my oil painting, "Kitty Up". It's really coming along and I'm finally feeling like it's nearing completion. And, yes, that's Mr. Roboto riding his trusty steed, Timothy. KITTY UP!
And this is my latest obsession.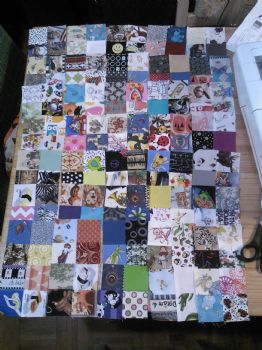 No, I'm not working on a man with blond hair and a tan (internet cookies to those that get the reference).
That's the start of a postage stamp quilt. I'm cutting 2.5 inch square pieces of fabric and stitching them back together in a random way to make a quilt. Yeah, it sounds nuts (why cut all that fabric up just to sew it back together?!) but it's really fun. So far most of the pieces have come from my scrap pile (scraps from projects I've made) or from this haul of leftovers I won in a giveaway (someone else made a quilt and I won their leftovers--it was a huge box--took forever to cut it all). So this quilt is kind of like a catalog of projects I've made and fabric I've bought and it's FUN.
So, what have you been up to lately?