Thursday, November 01, 2012
I have come to the conclusion that i am the pastry in this house... Stretched and moulded by everyone to fit and hold things together . Fragile that i break if i am poked to hard , but not so fragile that i cant be patched up. ( how i would like to have my turn at being a rolling pin at times....... BUT then again, rolling pins get bashed about and rolled in mess....rolling pins get scorched marks on them.....and they are fat and lumpy. Maybe i dont really want to be a rolling pin.)
I found my step counter yesterday and have decided from today that i would start using it. I cant walk outside today as it is raining and i am banned by the physio (again) due to another crash....so chair marching it is .( i wonder if the thing measurs this... i am seriously thinking of trading in for a fitstick, although my other half says get one of them measuring things that we used to use at school like a big wheel on a stick and count the clicks.. Does anyone have afit stick and know if it would measure my chair dancing and exercise please.
Not much else to report on apart from bread is nearly half way made , and the homemade pizza went down miles better than the shop ones...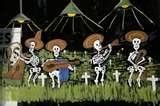 happy day of the dead all............