Just wanted to share a little story of a stray kitten who made his presence known last week at our house...........
DH and I were surveying some work that had to be done on the front porch, and heard some loud, piteous MEOWING coming from near the road........I followed my ears and they led me to a large tree in our front yard. There was this TINY little kitten crouched in the crotch of our tree! DH came and reached for him, and he hissed at us, but DH picked him up anyway, and as soon as he pulled that kitten to his chest, the little thing quieted.
The little guy was so tiny we figured he hadn't had his eyes open very long. We are guessing that he was dropped off, as that often happens on our country road. No other kittens were around, so hoping that they did not meet with a dire end!
We took the kitten in the house and tried to get it to drink some milk, but it seemed not to know how to lap the milk up, despite the fact that we dipped his nose in it several times. DH decided to take him out and close him in the shop to keep him safe from dogs and coyotes....
and took a platter of milk out and hoped for the best. The next day, there was the kitten, and the milk was gone! Yaaayyyy!!! He must have figured out how to drink it finally!
From then on, this little kitten would follow Matt (DH) where ever he went, just like a little puppy dog. When Matt picked him up, he would climb up on Matt's shoulders and ride along to take care of the horses! Such a cute little guy!
On Sunday, our friend came over and we introduced her to the newest member of the family, the little orphan kitten. She fell in love with it, and explained how happy that little kitten would make her son, whose dog had just died. So, we gave the kitten to her for her son, who will pamper the little guy and have him living in the house with him, lovingly raising him up to be a valued companion...........What a good ending to a story that could have ended so differently for this little guy, who was on his own at much too young an age.
Here is a picture of Matt with his little mascot: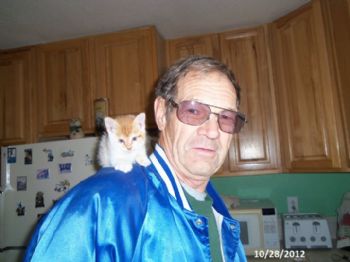 Hope you enjoyed the story!