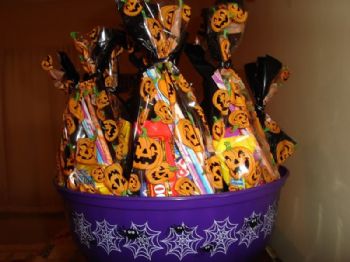 Hello Spark Friends!
I wanted to share some tips with you that help me have fun on Halloween without eating 20 bags of mini candies!


I love decorating for Halloween indoors/outdoors. I look so forward to passing out candy and checking out all the neat costumes as little ones Trick or Treat.

Tip #1 ...Wait until the week of Halloween to buy the candy/treats!
That way they are not Haunting you the entire month of October!
Plus, you will catch treats marked down and on sale!
(I used to work in retail.. The week before Halloween, most stores have their storage rooms FULL OF CHRISTMAS Candy!) That's why they mark the Halloween candy down.
Tip #2 ...Buy cute/cheap Party Favor Bags. As soon as you get home with the treats and party favor bags, begin filling them up! (like shown in the picture.)
You are now ready for the big night and you will not have "loose candy" hanging out for you to nibble on!
I LOVE the Sparkle in the kids eyes when they come to the door and see the Treat Bags! They are so excited!
Tip #3 ...If there are left over party favor bags, place them in the trunk of your car and if possible, take to a friends home that maybe didn't have a chance to Trick or Treat in your neighborhood or save for the next day for friends/co-workers. (Yes, keep them in your trunk overnight!)
You have the power to take the *SCREAM* and *HORROR* out of Halloween!
Spark On Everyone!

Have A Happy & Safe Halloween!