Last night, I was downloading some old files that I had backed up on a flash drive. Glancing through the old documents, I saw a file dated 5/21/2012 titled "RATIONALIZE." When I opened it, I saw that I had outlined what my life would look like if I did not lose the weight, and what it would look like if I did lose weight. I had also listed the pros and cons of each. Then I had consciously decided why I would rather lose weight and had identified some steps to take that might make it easier for me.
I thought to myself last night, I wonder if that was the turning point for me. Was that when I started exercising consistently?
So I went to Reports section and looked up my cardio reports. And here's what I found: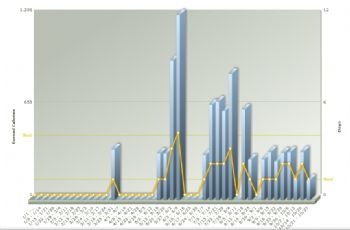 The chart shows from January 1st, 2012 to present the days that I did cardio. There's one bar in March, and then the rest of the exercise days started the week that I made that document. And I realized that this was the turning point for me. May 21st, 2012 was the day that I not only said, I want to do something about this, but I also went out and actually started doing something about it.
The little things that have changed for me since then are:
1. I used to dislike working out. Now I dislike the days when I don't get to work out.
2. I used to not have any exercises that I enjoyed. Now I have discovered that I love Qi Gong, and I do that any day that I strength train.
3. I used to weigh 205 pounds. Now I weigh 199 pounds.
4. I used to have a resting heart rate of 100 bpm. Now I have a resting heart rate of 78 bpm.
5. I used to get sick 3 or 4 times a year. We're almost to November, and I've only been sick once this year.
6. I used to experience pain when walking long distances on campus. Now I have no problems with pain at all.
While I still have a long way to go to reach my goal weight, it is very encouraging to see what a difference small lifestyle changes had on my overall health. It makes me think that I can do this for the long run.