Tried steel cut oats for the first time
Thursday, October 25, 2012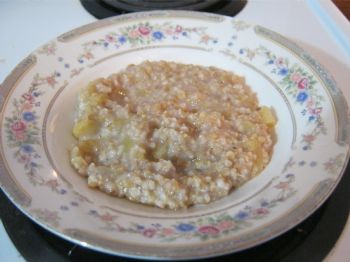 I didn't absolutely love it, but I think i can eat it once a week. Here's the recipe I used.
Apple Pie Oatmeal
1/4 cup steel cut oats
1 cup water
1/2 cup chopped apple
1/4 tsp ground cinnamon
honey to taste
Bring to a boil, reduce heat and simmer until fully cooked.
Makes 1 serving
187 Cal
3 g fat
6 g Fiber
7 g Protein
I think next time I will add a bit more cinnamon, other than that, it was pretty good. I have always hated oatmeal, so this is an improvement.