Thursday, October 25, 2012
Elated, excited, exuberant are a few adjectives to describe my mother after receiving her lab results yesterday! She told the nurse that she wasn't taking metformin [I think I have that right, the diabetes medicine] but the nurse failed the tell the doctor. Her A1C had improved in the 8 weeks since starting our Met B diet [I think it went from 6.9 to 6.1] and her blood sugars were in the normal range. At the end of the letter he said he was very pleased, and to continue the metformin. At her next appointment, she will reveal that she hadn't been taking any meds, and tell him all about the diet we've been on.
As for me, I've been recovering from a sinus infection--still one more week on my antibiotics, so I have not progressed to Step 2 like my mother has, my target date is November 7th.
Our time away [celebrating our 23rd wedding anniversary] was VERY nice and relaxing. Our highlight was having breakfast at the Raddison--they have a revolving restaurant. We sat for 72 minutes [the time it takes to do a full 360] and saw Duluth MN from such a wonderful perspective! Lake Superior was GORGEOUS. The sun rising over the lake was spectacular! And time talking was very special! Oh, and the breakfast wasn't bad, either! ;-)
Here are some Google pics of our view: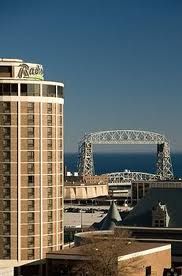 {{{{hugs to all}}}} Susan