Wednesday, October 24, 2012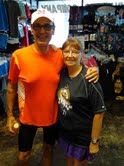 I actually got to meet fellow sparker Monty at the 5K that I ran last night. Here is a pic my husband took with his phone.
I do feel like I really am becoming a runner, if I can just decide on Monday to run a 5K on Tuesday. I followed my run/walk Jeff Galloway plan. And I didn't come in last. LOL And I felt good at the end. The goal is to finish upright, smiling, and wanting to do another one. Goal met!