So... it has been quite some time since I've posted anything. Not that we haven't been deluged with oddities (and I mean oddities - like me chasing Dudley through the house trying to retrieve a deer or elk leg - hoof still attached - he found somewhere and managed to get through the dog door). But I've mostly been in a battle royale with Nature. You see, we finished the garage before the rains came but that meant a little neglect to the gardens, fruit trees, and alas, the farm animals. (No worries - Aggie and Ezzie are still around and happy, but we have not gotten them a friend yet. Still no goats. And NO pigs. Ever.)
So last week and this week I've decided to get back to my real duties - tending the farm. That entailed first, getting the garden weeded and ready for the cold boxes. See, I'm just not quite ready to let it go. The tomato plants were loaded with green tomatoes, the butternut squash had kind of grown to monumental proportions but were still not at picking stage, the beets and potatoes are midway to harvest, and the corn is over 7 feet tall but the cobs are still puny. I really want to keep it going until we have a real freeze.
We (and by we I mean me) had this brilliant idea to use the 10x13 foot top of the carport canopy, cover it with plastic, and cold box the garden. The tomatoes wouldn't fit under it so I hacked up the plants, picked all of the green tomatoes and they are currently happy as tomatoes can be under a grow lamp, slowly ripening. The remaining garden (except the corn) would fit under the canopy just fine. All I had to do is move it from the barn, down the driveway, into the pasture, and oh yes - OVER THE SIX FOOT DEER FENCE WE BUILT.
I tried to do this last week. Mother Nature has a really sick sense of humor. I thought I could just lift it in the middle and carry it overhead. I mean - its only 200 yards I had to go. That's not so tough right?
Apparently you don't really need sides or large solid areas to parasail. Just a stiff wind as soon as you lift it and head downhill a bit. Of course - I'd have been completely willing to accept a wind assist if it would have cooperated just a tiny bit and blown it closer to the garden. But no - it seemed to really prefer the well area - 100 yards further away. So I tried to 'roll' it over there. Big triangular things don't roll so easily. They also don't do that step, pivot, step, pivot thing either. They like to tip. And listen to all manner of profanity too I'm thinking.
OK, so maybe we (and by we I mean Joe) can come up with a more brilliant idea?
With that monumental failure behind me, I decided to move on to the race between me, the apples, critters, and ... Nature. I am determined to get the apples before they freeze on the tree, fall off and are eaten by deer, or are stolen by Dudley. (That battle is along the lines of me put apple IN basket, Dudley waits till I climb the ladder again, Dudley takes apple OUT of basket and buries it.) And today - this is what I found.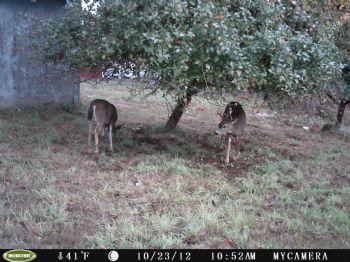 That, by the way, is at 10:30 in the morning.
But I digress. I picked 2 basket fulls. They are currently being canned (as we speak) into pie filling. But that is only one tree and what I could reach or pick up from the ground and did not have little deer nibbles. I still have the top of that tree and a whole other giant tree to gather from. In the wind and rain. On a ladder.
Joe has warned me that I need to take my pistol when I go out there because mating season has started and the bucks can get a little aggressive, as Mr. Fork-horn did. Rather than shoot the ground or worse, myself, my plan is to just yell and waive my arms under the theory that most males of any species will have instinct kick in and tell it "holy cow - run - that's a crazy female." Or I might just say the word "commitment." Might have the same effect (present husband excepted).
I managed to scare the little one off but the bigger guy stood his ground and stomped at me. Nature is not happy. I stomped back and he snorted his displeasure and so did I. And I think I may have jumped up and down and waived my arms but I can't be sure.