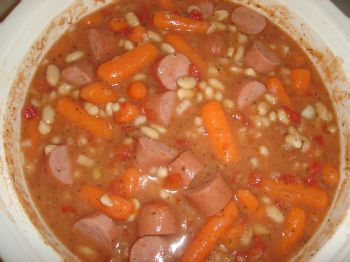 Hey Sparker's!

I'm just lovin' my SP Cookbook and I'm havin' so much fun I decided to Blog about what we are trying!

The Slow-Cooker Turkey Sausage & Bean Stew is a KEEPER!
This meal makes you feel like you're "cheating" because it's so savory & hearty.
You're NOT though at 268.6 calories per serving! (1 1/2 c.)
Super simple to put together!
My little changes/add-ins: I used Italian Seasoning Blend, Garlic Powder, Light Sprinkle of Celery Salt, Pepper, Dried Parsley, and a Light Sprinkle of Cumin to add a touch of "smokey."
**This is added to the Spark Recipe "Italian Herb Seasoning."
I used Smoked Turkey Sausage as well.
Re: the fresh baby carrots; I decided to start them on the stove first to add flavor and to get them slightly tender before adding to the Slow Cooker.
I added 3 cups of Organic-Free Range Chicken Broth to a pot and then added all of the carrots. Once they came to a boil and I turned heat to a slight slimmer, I let them cook for 5 minutes.
I then added the carrots to the Slow Cooker.
**Instead of using the water the recipe calls for, I used the "Chicken Broth" the carrots cooked in.
This meal makes the house smell so good!
It's the kind of aroma that makes you wanna run around the house with a napkin tucked in your collar, fork and spoon in hand, toe tappin', waitin' for the sound of a triangle chime to let ya know supper is a ready! "Come and Get It!"
A Garden Salad and Multi-Grain-Whole Wheat Rolls went perfect with this dish.
I also love the fact that the recipe mentions two ways you can try this dish:
Using the recipe for Homemade Taco Seasoning or the Homemade Italian Blend.
I can't wait to try it the other way next time!
~*Happy-Healthy Cookin' Everyone!*~