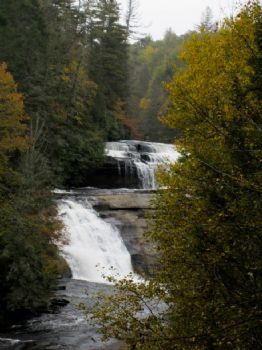 Anybody recognize this photo? If you have seen the movie "Hunger Games" it should look very familiar. I took this photo myself just last week. My 13-year old daughter is a huge fan of the books and the movie, so I decided to take her to the DuPont State Forest outside of Brevard, North Carolina to see one of the filming locations first-hand. She was excited, but I was nervous. I'm a sporadic hiker and really out-of-shape, not to mention overweight. The hike to the "Triple Falls" was going to be long and up some very steep hills. We went early in the morning and the trail was still pretty crowded. I guess other people also wanted to see where the movie was filmed as well (or to just see the falls themselves, which are phenomenal). I can't blame them...the forest is gorgeous. We're blessed to live in the Upstate of South Carolina & have access to gorgeous forests/hiking trails. We're close to so many beautiful places & we're never bored--there's always some new place to explore. We're not far from Western NC, TN, GA & we can see the Blue Ridge Mountains from our front yard. We're originally from Indiana, where it's relatively flat. Living in the foothills is new to us, so I feel as if we've been on constant vacation since relocating here over the summer. We're still in awe of the beauty of the Carolinas.
Anyway, back to the hike. The trail to the Triple Falls isn't very long...about 1.5 miles both ways, but as I said before, it was very steep/rugged terrain. We took the trail slowly and I almost gave up once, but I didn't want to disappoint my daughter. My husband (who is a hiker and nature photographer), as well as our 7-year old son came with us. They all had plenty of energy, but were patient with me. At one point, I remember stopping on the trail and hugging the stitch in my side & then bursting out laughing. I said to my daughter, "You know that I'd be one of the first ones to die in the "Hunger Games," don't you?" She said, "Well, Mom, you just gotta train harder!"
When we finally made it to the falls, my daughter was beaming. She pointed out the place where Katniss found Peeta in the movie and was so giddy. I'm so glad that I pushed on through and climbed the hills to the falls. It is one of the best moments I've had all year long. :)
My calves burned like crazy all week and on Monday, my son was laughing at me, saying, "Mommy's walking like Frankenstein." LOL I have to admit...I did give Herman Munster a run for his money last week. After lots of Icy Hot and doing stretches a few times a day, I was starting to feel better by Thursday/Friday. So, what did I do? Did I go back to sitting on the sofa?
HECK NO!
Yesterday, we drove to the Great Smoky Mountain National park and up to Clingman's Dome. My entire family hiked the steep trail up to the observatory and took in the breathtaking views of the Smokies. Now that was a steep trail! It made my trail to the Triple Falls seem like a walk in the park. My calves were burning and my shins were hurting, but I pushed on through. I thought for sure that I'd be in a lot of pain today, but I'm not! I told my husband this morning that I may actually, after all these years, be getting back into shape. I feel so good about myself right now. And my husband is so supportive of me. He said, "We'll return to Clingman's Dome next year and you'll be running up that trail. You'll see."
I love knowing that by eating the right things and moving by body, I'm transforming myself into who I want to be. I love looking forward to the new hiking trips that we will take together as a family in the future. :)
Be well & get moving! Trust me, you won't be sorry!
Amanda