Monday, October 22, 2012
Did the SoCal edition of the "Run for Your Life" 5K outside of Temecula, CA yesterday with Quin.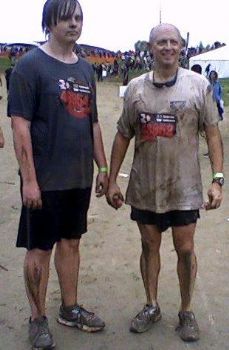 It was grueling but loads of fun, and the drizzly weather helped add to the atmosphere while also keeping things cool.
My foot continues to be a bother, and so with this event out of the way and none planned for the near future, I'm going to dedicate myself to an 8-week run-less, boot-wearing period to try to finally get this tendon or bone to heal properly.
I say tendon or bone because I don't really know exactly what's wrong. All signs point to a tear in posterior tibial tendon and maybe bruising of the navicular, but X-rays didn't reveal any fractures and only showed some evidence of a previous high ankle sprain. I'm not paying a $600 deductible for an MRI just to find out that the course of action is to refrain from weight-bearing exercise and immobilize the foot for 6-8 weeks. I can do that without the MRI.
So I'm going to treat it as if it's a torn ligament or a navicular fracture and baby it for a full 8 weeks. No running. No jump roping. Crutches and a brace, religiously. The bike, row machine and the pool will be my friends for the next 56 days. Quin's going to stay on the regimen with me; but unlike me, he won't missing the running one bit.
(I'm proud of him for having completed the Couch-to-5K program, culminating in the Zombie Run. But we both agreed we might have been more prepared had we just crawled around in the mud for 30 minutes everyday instead of run training.)