When I think about my journey and where I started and how I've progressed, it is still so absolutely surreal to me. I knew I was making the best decision I ever made when I hopped on the healthy train, but I had no idea where it would all lead to.
I knew I had to quit smoking so that was step one. Then I gradually added in exercise and started to change some food habits. I took it slow in the beginning and one step at a time which I think ultimately kept me interested and kept me from getting overwhelmed and quitting. I got some awesome stats from Quitnet.com that I wanted to share:
I quit Sept 15, 2009..
Time Smoke-Free: 1128 days, 11 hours, 40 minutes and 36 seconds
Cigarettes NOT smoked: 13542
Lifetime Saved: 3 months, 13 days, 10 hours
Money Saved: $4,399.20
***cartwheels***
I have tracked 35,439 fitness minutes into my SparkPeople fitness tracker since joining in Jan 2010. I know I've missed tracking a few of my workouts in there so I def have more than that, but heck! 35,439 min is really awesome to me!
Like I've said before, I never thought I'd be one to enjoy weight training because I fell into the trap believing weight training wasn't for women unless they were training for an event of some sort.. That is simply not true. Weight training is my favorite kind of workout now and I believe EVERYONE should incoorporate weight training into their workouts!
This week we did our maxes (4-6 reps of each exercise) and it's always awesome to see how much weight you can push and how far you've progressed in four short weeks! All the ladies in my group push so hard and it's just so great to be a part of that!!
My trainer busted out the camera on Thursday so I could share some pics here.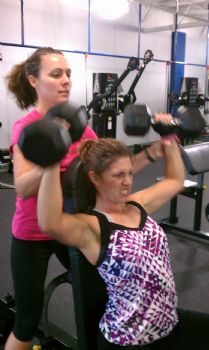 This is MY GRRR face! Arnolds, 35 lb dumbbells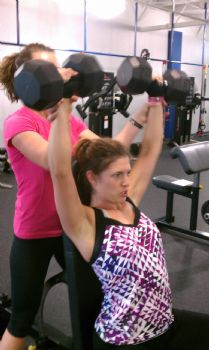 All the way UP!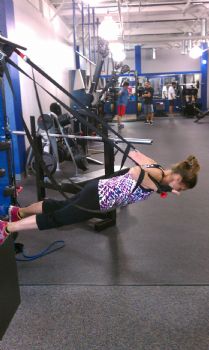 Fit wall push ups .. So freaking hard!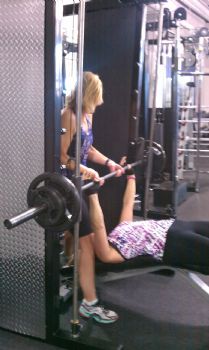 Decline chest press, 105 lbs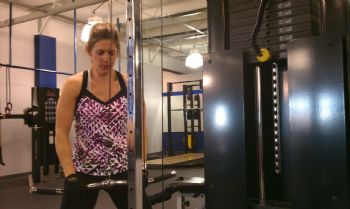 Tricep press down.. 110 lbs first set, 120 lbs second and third set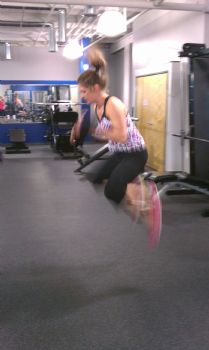 Froggie squats! squat low, jump, feet to butt!
This is what four weeks of progress looks like:

Whatever your goal, give it your all and make every effort to reach it. If you have to add more time to reach your goal, that's ok. Just keep striving to do your very best. We all have our "off" days, but each day is a new day.