Saturday, October 20, 2012
Sometimes I am at wits end. I am sure I am not the only one who has read thousands (well, probably less) articles about weight loss and in the end, they all come to the conclusion that you need to burn more calories than you take in. It isn't hard to understand and it makes perfect sense, but then on the other hand I track my food intake every single day and exercise regularly and I loose nothing. This week I was so lazy and literallly sucked in tracking my food (I didn't weigh anything and most of the time I estimated the portion size) and my exercise was getting up from the bed, take the dog out (very short walks and you can't call that exercise) and laying down on the sofa doing nothing. Well, maybe that is a lie because in fact I did something: I ate! ! ! But I didn't eat healthy. Okay, I had some veggies and fruits here and there, but my nutrition plan consisted of cookies, pudding, chocolate milk, white flour, sugar, fat. I am not proud and there is no excuse for this behavior (even though I had a cold). And now the funny part: I lost a pound! ! ! It wasn't my weigh-in day so I won't track it, but still...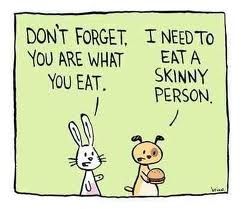 I really don't get it. I am pretty sure I went over my calories almost every day and not only by 50 or 100 calories.
Sometimes logic is illogical....