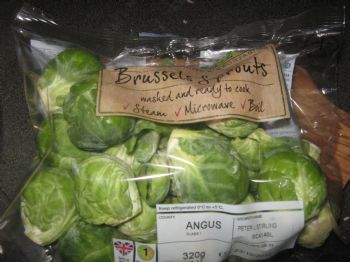 Today I go shopping for dinner on the way home, which I don't usually do. Usually I head straight home in order to avoid the temptations of supermarkets. However today is special because I'm not at work tomorrow, and I had a superlowcalorie lunch and a lowfat croissant (185 calories) for brekkie, so I have oodles of calories to spare and I feel like something really tasty
So, we've all been there. I rummage through the Indian food and I rummage through the Chinese food and I rummage through the puddings and I start squinting, quite horribly, at the number of calories in very ordinary things that I used to eat all the time. ALL the time. I go looking for potato hoops which I still (on bad days) eat by the whole bagful but they haven't any.
After I've been up each aisle a couple of times and round the racks and am starting to attract the attention of store detectives to say nothing of men in white coats, I come, at last to the fresh meat. And there is a lovely fillet steak there, and I swear it has my name on it. A handsome fillet steak, eyewateringly expensive, but only 155 calories in 100 grammes. Mine.
I need something to go with it and as I pass, on the way to the veg, a bag of fresh tagliatelle hops into my basket. And I come at length to the veg. Winter is icumen in, as I remarked in an earlier blog, and so we're on to the brassicas. Not always my favourite but yesterday I ate some Savoy cabbage and enjoyed it and today there's a bag of sprouts and I get one of those sudden impulses usually reserved for chocolate and sling it into my basket and pay before I can think better of it. The sprouts are intended for someone called Angus apparently, but I get to them first.
Back home, the sprouts sit on the counter and eye me and I stand and eye them back. They don't really go with fillet steak and noodles, so I decide to microwave them and eat them as a sort of first course. The microwave pings and I tip the sprouts, green and glistening, into a bowl.
Well I ate five of them. You know, I don't really like sprouts that much. Can't imagine what possessed me to buy them.
Anyone got a recipe for leftover sprouts?