This is me after I lost 30 lbs, Summer 2009. I was feeling on top of the world in these pictures. I had made serious progress since the first time I had hiked this trail. The backpack I was wearing, I had to make an extension waist belt because the one with the pack couldn't get around me. In these pictures, I was able to take that extension off. That was a huge victory for me at the time. Someone on the outside looking in would have only seen a chubby guy out for a hike. I however saw myself as a champion, one who was already reaping the benefits of a healthy lifestyle, hiking a trail that a couple years prior at 385 almost wiped me out after 7 miles. What a difference losing just 30 pounds made back then.
.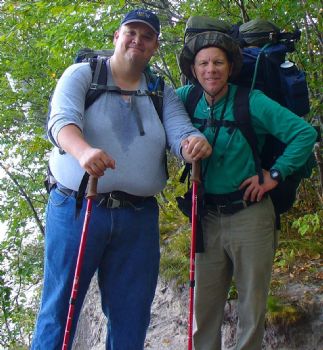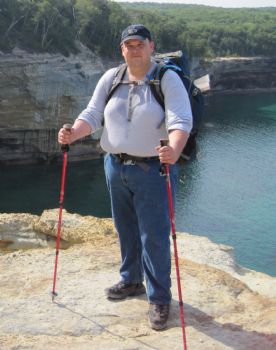 .
I remember the old life with exercise induced asthma attacks, the profuse sweating just sitting, the scary pinching tightness in my chest after mild exertion.
Sometimes I need to reflect and refresh my perspective.
There are some lessons from these pictures that I glean from my musings, one of which is that you don't have to be perfect before you start LIVING. The fact that i had enough confidence to allow someone to take these pictures is huge. All the years of shame, hiding, justifications are gone.
I also need to take a step back and sort out my motivations. I guess I have been caught up in the middle of a minor mid life crisis of sorts where I have been deeply in touch with my inner teenager. Maybe this has been somewhat of a release of the life I never lived when I was younger, when I was always shunned and teased. Maybe this is a confession of a man who never experienced some things and now that he is empowered, its like a power surge of sorts. I guess this is why guys sometimes go crazy because this is some sort of a "now or never" stage of life.. to feel the rush, to do something epic before the sands of time wear away at your desire until big things no longer matter. Maybe I am nothing more than a lion roaring for the first time because he never really roared earlier in life.
I'm saying all of this because my reasons for embarking on this last leg of my journey need to be right.
This journey to goal weight, the body I have always wanted, the Half Iron Triathlon and maybe more is far too important to me for it to be based on nothing more than a wanna be letting his inner teenager flex his muscles on the beach.
There has been alot of sorting through feelings and asking the question WHY until i run out of answers.
The why I came up with brought me comfort.
My pursuit of possibly training for a Full Ironman (once I finish a half, I know it wont stop there) is not based on craziness or trying to prove something to myself or others... it is deeper.
My ultimate motivation after all the posturing, muscle flexing, middle aged woo hoo is done is a deep down desire to pursue something I never, ever had. Personal excellence.
Not excellence or perfection in the sense of never making a mistake but rather the excellence that comes when you commit whole heatedly to a goal, leave it all out on the battlefield, mistakes and all, and after the smoke clears you stand victorious with a medal around your neck.
How far could I really go if i committed 100%, honed my training and nutrition to a razors edge instead of the sloppy, undisciplined life I was so fond of before?
I think I have finally found the final answer. Its not enough to just simply lose the weight. I must have personal excellence in my life to feel like I am a man and that I have a place in this world. To know what I am truly capable of rather than being propped up or living behind excuses. To not use justifications as a blanket to shield myself from the cold winds of reality but rather to commit to cause everyday until I see it through.
To reach personal excellence is what it is to be a man, to always strive and never quit, to never accept no for an answer.
In this, my refuge is the swim, the bike, and the run, for these disciplines will always demand this of me and my reward is far more than a finishers medal, it is getting one step closer to finally being the man I was supposed to be from the start but has taken this long to hone to a fine edge.