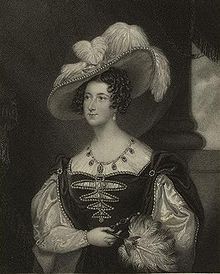 Anna Russel, the 7th Duchess of Bedford (above) is thought to have invented what we now know as 'afternoon tea' in the early 1840's so getting peckish in-between meals is nothing new. The Duchess had small plates of sandwiches and cakes brought to her in secret as she feared ridicule, but once the idea was out, it caught on fast! As lovely as it would be to have afternoon tea everyday, I don't think my body would like it very much. I like my snacks to fill the gap between meals without overloading me with calories. I do best with snacks that contain plenty of protein to keep me satisfied and help balance my blood sugars and manage my appetite.
Here are my favourite 11 on the go snacks:
1. 100g of Sainsbury's Organic 2% Natural yoghurt with chopped up seasonal fruit.
Low fat, organic and delicious. Sainsbury's is my favourite brand of natural yoghurt and it's only £1.12 for a large pot! Yoghurt and fruit is a perfect combination of protein, fat and carbohydrates. This snack is filling, satisfying and really nutritious. To read about why its better to add your own fruit to natural yoghurt rather than buy fruit varieties, see my previous blog post on '4 Healthy UK foods that can turn into a Diet Disaster'
www.sparkpeople.com/mypa
ge_public_journal_individu
al.asp?blog_id=4848306
2. Ploughmans Roll Up.
Take a slice of turkey, a lettuce leaf and a slice of cheddar cheese, spread with Branston pickle, roll it up and you're good to go! High protein, delicious snack!
3. Home-Made Trail Mix
You can add just about anything to your trail mix, I've been known to add Milky Way Magic Stars to mine! Perfect way to treat yourself with a little chocolate whilst not overdoing it on the sugar and unhealthy fats. Milky way is already lighter and lower calorie than most chocolate and one fun size bag goes a surprisingly long way when mixed with nuts, seeds and dried fruit.
In my trail mix have: dried cranberries (or sometimes goji berries), pumpkin seeds, sunflower seeds, a handful of wholemeal cereal flakes, cashews, almonds, walnuts, pecans and maybe a fun size bag of Milky Way Magic Stars!
4. Chili in a Hurry
This chili really can be made in a hurry. No cooking involved at all. Just take some beans (black eyed beans, black beans, kidney beans all work well), and top with hot salsa, cottage cheese, a few slices of avocado, some chopped up fresh tomato, a few jalepenos, a few drops of Tabasco chipotle sauce and a dash of chili powder.
This recipe is from my new book '7 Days of Superfoods on a Budget' and makes an ideal, high protein, low fat, low calorie, low budget snack which is high in fibre, calcium and B vitamins.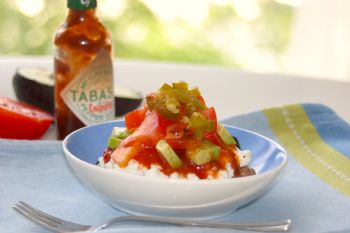 5. Ants on a Stick
This Childrens classic works for me every time! Take a stick of celery, fill it with nut or seed butter (almond butter or sunflower seed butter are healthiest but any will do.) and top with raisins or dried cranberries. Yummy!
6. Cheese Sticks
Step back to the 80's and get your cheese sticks out. Cubed cheese, pineapple, pickled onions on cocktail sticks is the classic combo but it's worth getting creative with different kinds of cheese and fruit. How about feta, basil and watermelon?
7. Crudites and Houmous
Take some of your favourite veggies, I like a rainbow of veggies on my plate - carrots, celery, bell peppers, broccoli and cherry tomatoes, chop them up and dip! If you want a transportable crudités and hummus snack then take a portable coffee cup (or something similar) and add a couple of dollops of hummus to the bottom of the cup. Slice your veggies into sticks (broccoli and cherry tomatoes won't work!) and place the sticks in on top of the hummus. Great snack to take away, and extra points if it prevents you from filling that cup with a grande latte!
Low fat supermarket houmous isn't bad but it's not as good as the home made stuff. If you have a blender then its so much better to make your own. You'll save calories, cash and you'll know that it doesn't contain any flavours and preservatives. See my recipe here:
www.thedailycalorie.com/
2/post/2012/09/5-reasons-w
hy-you-should-make-your-ow
n-houmous.html
8. Sliced Apple and Peanut Butter
Perfect combination of carbs, protein and fat. Well balanced snacks like these don't spike your blood sugar and so keep you satisfied until the next meal...and an apple a day keeps the doctor away! If you don't like this combination then banana is also great with peanut butter and it makes the perfect post work-out snack.
9. Hard Boiled Eggs
Eggs for me are the ultimate fast food. Hard boiled in the shell and it makes the perfect high protein snack. You might get a few funny looks if you choose to eat it on the bus though! ☺
10. 1 Minute Apple Crumble
It's not really an apple crumble but the cooked apple, cinnamon and crunchy topping will have you fooled. See the link for a picture and my secret recipe!
www.thedailycalorie.com/
2/post/2012/10/sneaky-peek
-at-one-of-the-e-book-reci
pes-1-min-apple-crumble.html
11. Banana, Cinnamon, Honey
Chop up a banana, sprinkle with cinnamon and drizzle with honey. Instant dessert or post work-out snack!
In my snack shopping basket you'll always find:
Pumpkin seeds
Sunflower seeds
Almonds
Peanut butter (I like meridian as it only contains whole peanuts and no added salt, sugar and oil)
Natural Yoghurt (Sainsbury's Organic 2% fat as above)
A selection of fruit
A selection of raw veggies
Nairns oat cakes
Chickpeas (to make houmous)
Eggs
Green tea
Dark chocolate (Don't gasp in horror! I'm not adverse to a little dark chocolate. If you buy the good stuff then it's got lots of health benefits and a little goes a long way in providing a lot of flavour. A couple of pieces with a hot drink is sometimes just the ticket on an afternoon. Better than a handful of biscuits anyway! To read more about the health benefits of chocolate, how to enjoy chocolate as part of a healthy lifestyle and what kinds to buy, have a read of my previous post
www.thedailycalorie.com/
2/post/2011/06/chocolate-r
eview-part-2-its-good-news.html
)
Or you can also have your snacks delivered in calorie controlled portions! Graze do some really tasty snacks and your first box is always free!
www.graze.com/signup/pro
motion
My snacking tips:
Before you snack, drink a large glass of water and wait 20 minutes. We often confuse thirst for hunger as our bodies can take water from food or drink – it doesn't care which it gets! This is a bit of a gross side note but hard stools and/or constipation are signs of dehydration. If you're not drinking enough water than your body will draw out all the fluids from your foods, leaving you constipated or in pain on the loo!
Are you really hungry for a snack or is it something else? Use the HALT method to find out. The HALT method makes you stock and ask yourself a few question before acting on an impulse:
Am I...
Hungry?
or
Angry?
Lonely?
Tired?
If you believe its genuine hunger, have a snack but remember that tiredness or emotions are not satisfied by a quick bite so if its something other than physical hunger then you'll most likely be wanting to go back for seconds or thirds.
It's getting to that time again...afternoon tea and a healthy snack anyone?
Nicola